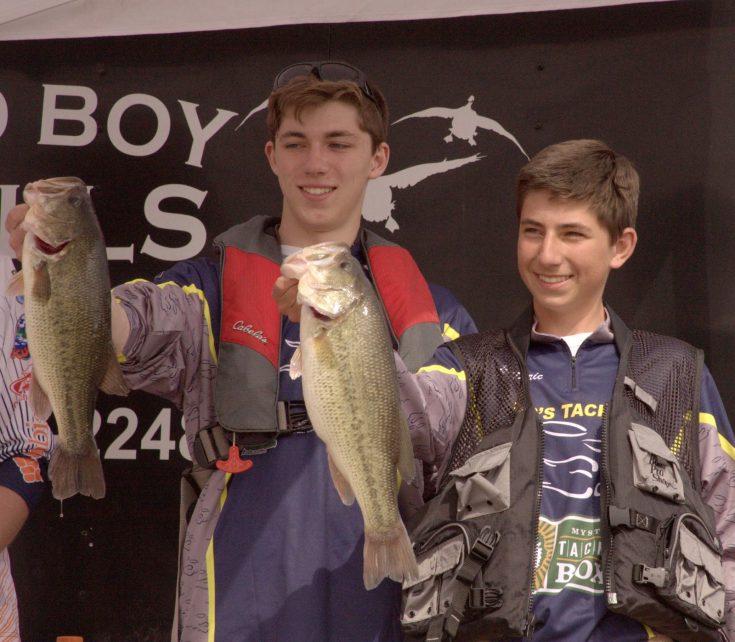 Last weekend, high school anglers from across the state gathered at central Illinois' Clinton Lake to battle for one of the top honors in competitive bass fishing—the Big Bass award. But the teams participating in the Illinois Bass Fishing Club High School Open walked away with a lot more than awards and prize bags. The 150-plus competitors and coaches also left with "how-to" tips for stopping aquatic invasive species (AIS) in their tracks.
AIS prevention has become a fixture at this annual tournament, one of few in the state that allow students to hone their skills and learn about ways to carry their love of bass fishing into college. During the tournament's four-year history, IISG specialists have joined teams at the Mascoutin Recreation Area to talk about the threat of invasive species and what anglers can do to halt their spread. Frequent announcements from Illini Bass Fishing Club members each year also remind students and parents alike of the importance of "leaving the lakes better than we found them."
"No one cares more about Illinois' fisheries than fishermen," said Luke Stoner, former Illini Bass Fishing Club president and tournament director. "It's our job to keep them as healthy as we can, and that includes fighting the spread of invasive species."
This is not the only event where conservation has taken center stage. In fact, in the last decade, groups like the Shawnee MuskieHunters and Illinois Bass Federation have expanded their interest in casting technique, water safety, and fishing etiquette to become leaders in invasive species prevention.
Tournaments and club events give young anglers a chance to practice easy steps that prevent AIS from hitchhiking to new habitats and wreaking havoc on food webs and recreation. For example, removing plants, animals, and mud from all equipment, draining all water from your boat and gear, and drying everything thoroughly with a towel after a day on the water will help keep waterways clean and healthy. Throwing any removed plants and unused bait in the trash is also a simple way to join the fight against aquatic invaders.
"To be really effective, these practices have to become routine—the first thing you do after leaving the water," said Sarah Zack, IISG's aquatic invasive species outreach specialist. "That's why it is so encouraging that Illinois anglers and boaters are learning these practices early and are being encouraged to share them with their friends and family."
Learn more about IISG's invasive species prevention program, Be a Hero – Transport ZeroTM, at TransportZero.org.