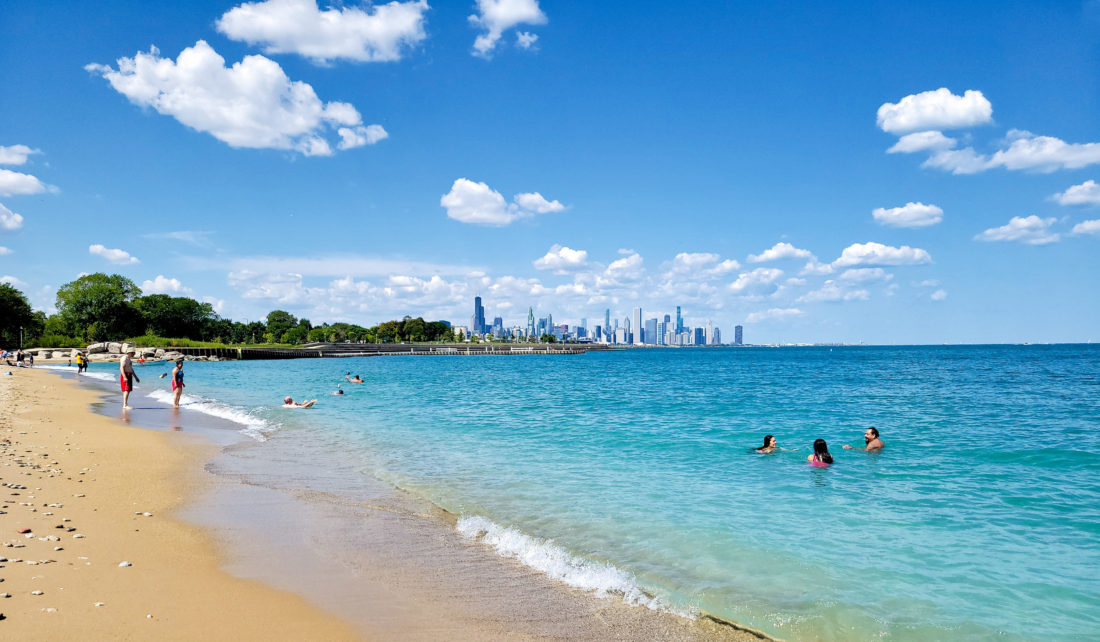 This year, Illinois-Indiana Sea Grant has continued to grow as a program. We welcome new expertise and offer expanded opportunities to students and stakeholders both as groups and individuals.
I'm pleased to announce that Shiba Kar is our new associate director as part of his new position as the assistant dean and program leader for natural resources, environment, and energy for University of Illinois Extension. Dr. Kar, whose experience in natural resource sustainability spans three countries—the U.S., Bangladesh, and Australia, came to Illinois from the University of Wisconsin. We look forward to his fresh ideas and support.
At IISG, an important part of our work is to offer opportunities to help advance scientists in the early days of their careers. We are proud to announce our two finalists for the 2022 Knauss Fellowship Program. The one-year fellowship places beginning professionals in federal government offices in Washington, D.C.
Gabriella Dawn Ketch is a PhD student at Northwestern University who is quantifying geologic ocean acidification events as part of her dissertation in the Department of Earth and Planetary Sciences. Cynthia Garcia Eidell is working toward her doctorate in the University of Illinois Chicago Department of Earth and Environmental Sciences. She is studying carbon cycles along the Arctic coast. Both will begin their fellowship in February in either the Executive or Legislative branch.
We are also supporting nine new research projects through the Sea Grant Scholars program. The scholars program helps develop a community of scientists to work on critical issues related to Lake Michigan and the Great Lakes region through funding and other opportunities for one year.
As one of three faculty scholars, Sachit Butail of Northern Illinois University seeks to improve the design of robotic sampling of an invasive spiny water flea in the Great Lakes. Ramez Hajj, at the University of Illinois, will develop a porous asphalt mixture capable of resisting freeze-thaw cycles. And at the Illinois Institute of Technology, David Lampert will develop a stormwater model to assess impacts on hydrology and water quality in southern Lake Michigan communities.
In addition to these faculty members, six graduate students received funding through the scholars competition to extend their research activities.
I'd also like to share some details of our work in response to COVID-19. In 2020, the National Sea Grant Office awarded funding to state programs to quickly provide resources to stakeholder groups experiencing impacts from the pandemic and the associated shutdowns. A year later, here's how we were able to help in the moment, and down the road.
In Illinois and Indiana, aquaculture producers generally sell live fish to restaurants and through ethnic markets. When these avenues closed down last year, we helped fish farmers apply for financial support, but also, explored processing options that could open up new markets and increase farmers' resiliency. Eleven farmers took part in online training for HACCP, a food safety process. Several have since expanded their businesses and others have the information and skills to do so.
Around Lake Michigan, many charter fishing operators were forced to suspend their businesses in 2020 just as the fishing season was starting. And, they were not eligible for the initial financial rescue packages. We built a charter fishing network, providing operators regular updates and publications on potential financial assistance and best practices for reopening. Working with Michigan and Wisconsin Sea Grants, we surveyed charter operators and found that, on average, they each lost $10,0000–$15,000 in revenue in 2020, resulting in at least $8 million in lost revenue across the fishery due to COVID-19.
Now more than ever, teachers need to find lessons that are adaptable to different learning environments and cover required curriculum topics. We created the online Weather and Climate Explorer to allow educators of all sorts to filter their search for activities and lessons by grade levels, specific weather and climate subtopics or geographic locations, learning modes, and more.
Building on this rapid response grant project, the Explorers became an education series. The Pollution Prevention Explorer covers a range of water pollution sources—including microplastics and beach debris—and potential responses in its lessons and other resources. And in a similar theme, Land to Water: The Nutrient Explorer is focused on causes and impacts of excess nitrogen and phosphorus that wash into rivers and lakes.
Tomas Höök
Director, Illinois-Indiana Sea Grant
---
Illinois-Indiana Sea Grant is a part of University of Illinois Extension and Purdue Extension.