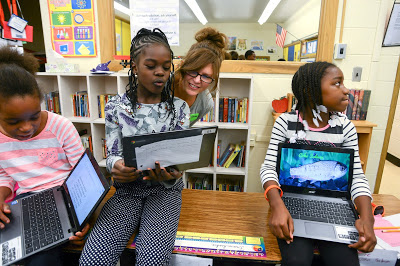 "I am presenting the Coho salmon," Shaniyah Lucas, 9, declared proudly as she gestured toward her computer. "I learned that when it comes down to their family, they start to get mean because they protect their eggs and themselves from predators."
Lucas, along with her fourth-grade classmates, presented their findings as part of Alex Valencic's "Illinois Animal Expo" last Friday at Wiley Elementary School in Urbana, Ill.
Valencic's class set up posters and slide presentations exploring Great Lakes fish and invited students from throughout the school to visit.
Valencic, an alumnus of the 2013 Lake Ontario Shipboard
Science Workshop on the Research Vessel Lake Guardian, incorporated his experience into the class.
Each student spent six weeks studying a freshwater fish found in the Great Lakes and learned about its habitats, life cycle, food web, appearance, and adaptations of the animals.
Valencic (pictured left), who is in his fifth year teaching at Wiley, was looking forward to the experience for his students.
"My primary goal is for my students to understand the rich diversity of life that lives within the Great Lakes-St. Lawrence River Seaway," he said. "Even though we don't live right on a lake, Illinois is hugely impacted by Lake Michigan.
"I also wanted the students to realize that while there are many kinds of freshwater fish, they all have common traits that help them survive, grow, and reproduce. The students have been really excited about today, but they were really nervous at first!"
But there was no shortage of enthusiasm from the students who got to show off their new-found knowledge.
Catherine Paisley, a mother to a student in the class, looked around the room and mused, "They're going to remember their fish for a long time!"