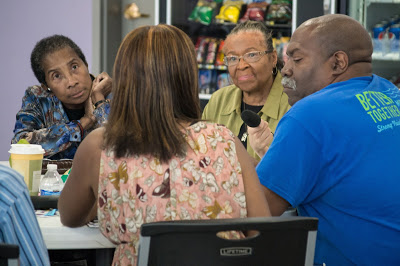 IISG pollution prevention outreach specialist Adrienne Gulley shared the
Lawn to Lake
program with dozens of Chicago residents gathered at the New Covenant Missionary Baptist Church last Saturday.
The attendees mostly, from the Chatham community on the south side of Chicago, were at the church as part of RainReady, an organization started in response to urban flooding.
Gulley used the Lawn to Lake program to help those in attendance learn the importance of maintaining a healthy lawn through natural techniques that don't rely on applying phosphorous. To help control excess water from heavy rains, she talked about using rain gardens, cisterns, rain barrels, and permeable pavers.
"I was impressed by how many residents were interested in creating lawns using native plants and natural lawn care methods," Gulley said. "They were really receptive to all the options out there."