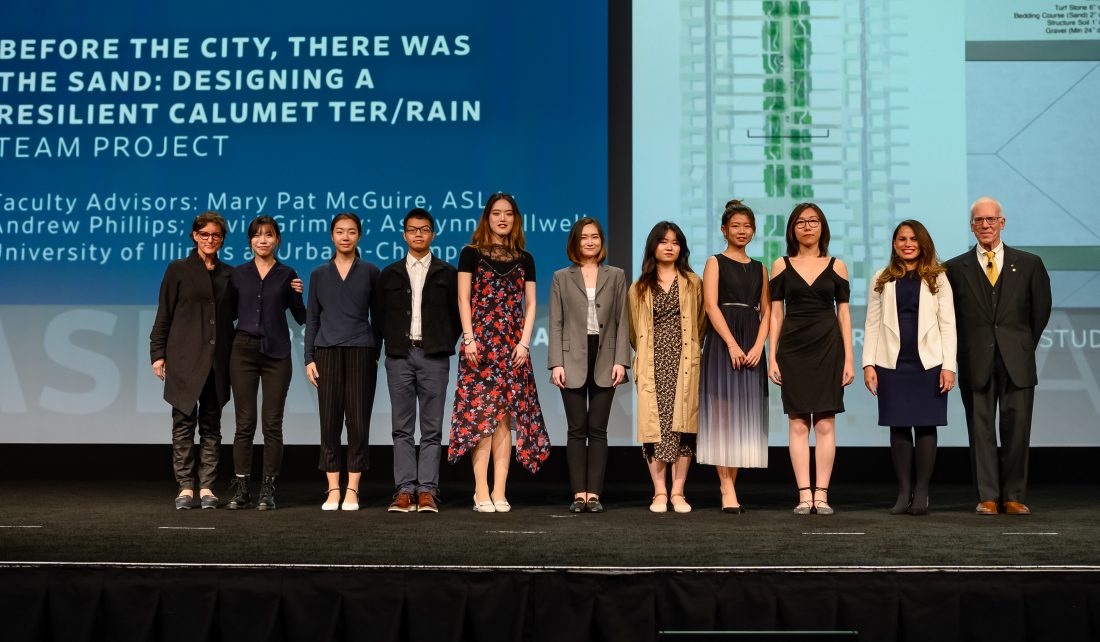 At the ASLA award ceremony, from left to right: Mary Pat McGuire; students Yang Xia, Xi Wang, Jinyu Shen, Jingyi Li, Bo Pang, Lixian Zeng, Yi Zhao and Mengdi Chi; ASLA student awards jury member Diana Fernandez; and Shawn Kelly, ASLA president.
A team of 13 University of Illinois students recently won an American Society of Landscape Architects (ASLA) Honor Award in the Student Collaboration category. The winning project—Before the City, there was the Sand—is part of an Illinois-Indiana Sea Grant (IISG) research project focused on addressing urban flooding throughout communities in the Chicago-Calumet Corridor.
The IISG project is led by Mary Pat McGuire in the U of I Department of Landscape Architecture who recruited her students to take part in the research as part of their classwork. The award recognizes the collaboration of students from a variety of disciplines who, with help from faculty advisors, developed a comprehensive urban stormwater redesign for a 300-acre neighborhood in Calumet City, Illinois, a suburb southeast of Chicago.
"It's critical that we involve our students directly in our design research so that they take interdisciplinary, engaged research with them into professional practice," said McGuire. "In our Sea Grant project, our science, design, and engineering students were involved in every aspect of our work and contributed immensely to the research and outcomes. Through this work, they learned the need to address the larger issue of urban flooding as it is uniquely faced by each community."
Honored students from the Department of Landscape Architecture are Yang Xia, Mengdi Chi, Jingyi Li, Lauren Mathias, Bo Pang, Jinyu Shen, Xi Wang, Lixian Zeng and Yi Zhao; from the Department of Natural Resources and Environmental Sciences and Department of Geology are Avery Clark and Piotr Szocinski, respectively. Reshmina William and Gabrielle Bethke are students in the Department of Civil and Environmental Engineering. In addition to McGuire and IISG's Margaret Schneemann, Andrew Phillips, David Grimley and Ashlynn Stillwell are part of the IISG project team and served as faculty advisors.
The ASLA awards jury described the winning project: "Uniting the diverse disciplines of landscape architecture, geology, and civil and environmental engineering, this design and planning project in Calumet City near Chicago addresses the pressing issue of urban flooding by examining the geological legacy of sandy ridges and swales that once characterized the area but have since been obliterated. Taking cues from the vanished landscape, the team developed a multi-faceted approach to stormwater management that uses a variety of designed surfaces, a palette of native plants and inventive models for new green infrastructure in this flood-threatened neighborhood."
The students received the award at the Annual ASLA Convention in San Diego on November 18, 2019.
---
Illinois-Indiana Sea Grant is a part of University of Illinois Extension and Purdue Extension.
Writer: Irene Miles, 217.333.8055, miles@illinois.edu