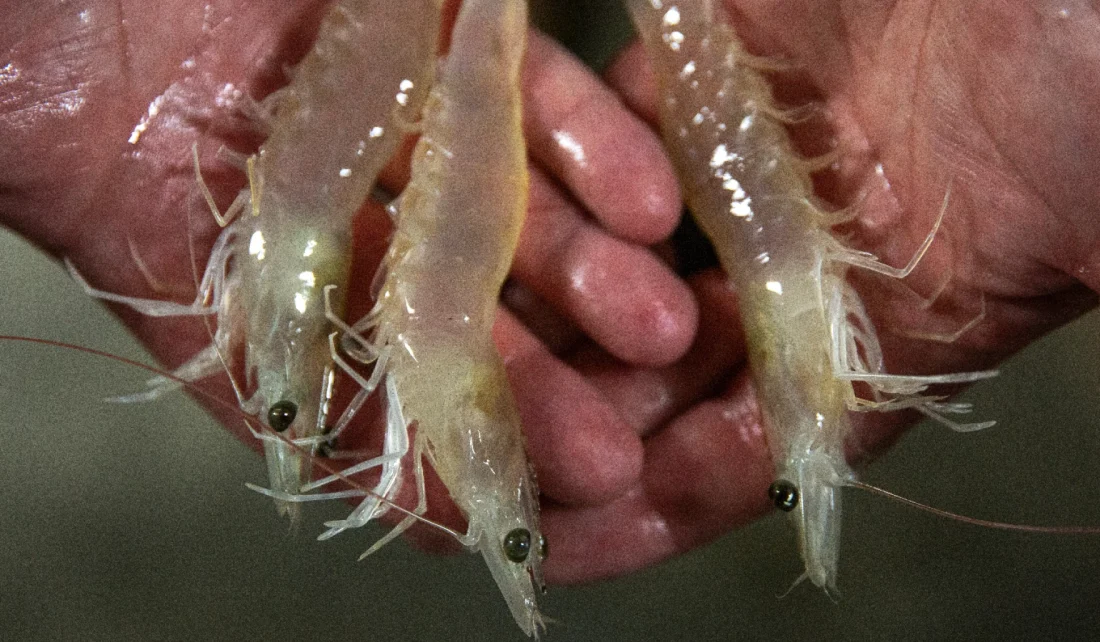 Jeff Howell shows off a trio of shrimp at Triple J Farms in Foristell, Missouri. The farm specializes in Pacific Whiteleg shrimp.
A group of Midwestern shrimp farmers are on a mission to provide Americans with better-tasting, sustainable shrimp. The industry struggled during the COVID-19 pandemic, but farmers remain hopeful that indoor shrimp farming will come back stronger than ever.
Experts say aquaculture, a method used to produce aquatic organisms in controlled conditions, can be a new market for farmers.
Though commercial shrimp farms came to the United States in the 1960s, about 90% of the shrimp Americans eat is still imported, said Amy Shambach, aquaculture marketing outreach associate for Illinois-Indiana Sea Grant.
As consumers start to prioritize sustainability and freshness when shopping for seafood, Shambach said inland shrimp farming can fill the need.
"To be able to raise a high valued seafood product in people's backyard is just really an amazing opportunity for farmers," she said.
But Shambach explained the industry has a long way to go. Shrimp from the Midwest makes up less than 1% of the U.S. market. Many farms closed because of the pandemic and natural disasters on the coasts that disrupted Midwest farmers' ability to purchase shrimp larvae.
"That's made it really hard for new farms that are interested in starting up in the aftermath of COVID to have the confidence that they'll be able to have all the supplies and resources they need to run a successful business," Shambach said.
But Shambach said challenges are to be expected in a new industry.
"We're still in (the) infancy of indoor shrimp farming," she said. "There are a lot of growth potentials."
Read the full news release from NPR's KCUR.
---
Illinois-Indiana Sea Grant is a partnership between NOAA, University of Illinois Extension, and Purdue University Forestry and Natural Resources, bringing science together with communities for solutions that work. Sea Grant is a network of 34 science, education and outreach programs located in every coastal and Great Lakes state, Lake Champlain, Puerto Rico and Guam.