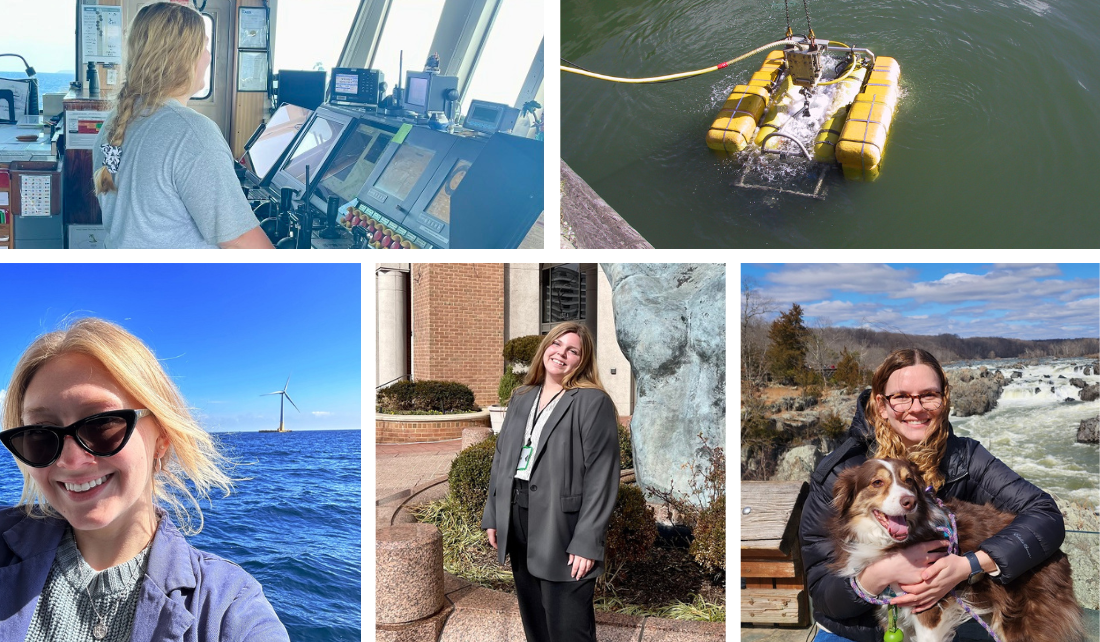 The Sea Grant Knauss Fellowship provides a unique educational and professional experience to graduate students who have an interest in ocean, coastal and Great Lakes resources and in the national policy decisions affecting those resources. The fellowship, named after one of Sea Grant's founders and former NOAA Administrator John A. Knauss, matches highly qualified graduate students with hosts in the legislative and executive branch of government located in the Washington, DC area, for a one year paid fellowship.
Curious about the Knauss fellowship? The Knauss blog features stories from former Knauss cohorts, sharing insights on fellowship experiences and their journeys to DC. Students enrolled in educational institutions in Illinois and Indiana should apply for the fellowship through Illinois-Indiana Sea Grant (IISG). Information about the fellowship and other graduate student opportunities can be found on IISG's Fellowships & Scholarships page or by contacting Angela Archer, campus engagement coordinator, at amcbride@purdue.edu.
Hannah Lohman
Hannah's placement in the NOAA Climate Program Office Climate Adaptation Partnerships (CAP) program has provided opportunities to foster her growth as a climate and sustainability professional. The CAP program is an applied research and engagement program that supports sustained, collaborative relationships that help communities build lasting and equitable climate resilience in the U.S. Through this placement, she has had the opportunity to learn about the federal research grants process, the importance of research and engagement developed with community partners, environmental justice and equity, and interdisciplinary approaches necessary to tackle the complex societal issues surrounding adaptation planning.
During these six months, Hannah has participated in writing and funding research opportunities (including projects funded by the Bipartisan Infrastructure Law), attended conferences and events related to climate change and adaptation, and contributed to the planning of cross-network activities including a justice, equity, diversity, and inclusion workshop series and a 3-day network meeting in Seattle. Her team has also provided the opportunity to pursue independent projects of interest. Hannah is leading strategic partnership development with federal agencies, international organizations, and private sector organizations to understand their programmatic approaches to climate adaptation efforts. Hannah is also organizing and serving as the primary convener of a Town Hall session at the American Geophysical Union Fall Meeting focused on equitable engagement with frontline communities.
Looking ahead, Hannah will be traveling to Johannesburg, South Africa for the 1st Annual International Water Association Non-Sewered Sanitation Conference to present her PhD research, to Seattle for her team's annual network meeting, and to San Francisco for the American Geophysical Union Fall Meeting. She is looking forward to sharing her fellowship experiences with a broader audience at these events. "Overall, my team has been so inspiring to work with," said Hannah, "and I know they are making a significant impact on communities through their regional research and engagement activities."
Hannah Lohman received a bachelor's degree in civil engineering and a master's degree in environmental engineering from the University of Illinois Urbana-Champaign (UIUC) Grainger College of Civil & Environmental Engineering. She is now working toward a doctorate in environmental engineering with a focus on energy, water, environment and sustainability at UIUC and has completed a Certificate of Excellence in Sustainable Management and Technology from the UIUC Gies College of Business.
Hannah Staley
Within just six months of working with the NOAA Office of Marine and Aviation Operations (OMAO), Hannah has gained a vast understanding of NOAA's ship and aircraft fleet, the federal budgeting as well as the rulemaking process, the agency's various missions, and the interconnectedness between the executive and legislative branches. As part of OMAO's Legislative Affairs team, she has reviewed and analyzed new bills, attended various briefings, provided insight on marine and aircraft operations to Congressional members and staff, assisted in internal reports, and staffed OMAO leadership for meetings with NOAA leadership and hearings on the hill.
In May 2023, Hannah spent two weeks on the NOAA Ship Nancy Foster supporting NOAA's Caribbean Coral Reef Mapping project. While onboard, Hannah learned everything she could about ship operations by engaging with NOAA Corps officers, the science team, and engineers. She quickly became a member of the ROV deployment team, assisted the lead scientist in identifying fish and coral species during ROV operations, and had the opportunity to drive the ship between survey locations as well as operate the ROV along the seafloor at 55 meters deep.
"The best part of the fellowship so far is the team that I work with every day," said Hannah. "This experience is only the beginning, and the OMAO team has already made my Knauss Fellowship year a phenomenal first year of my career working in Washington, DC."
Hannah Staley received a bachelor's degree in marine science with minors in environmental science and political science from Coastal Carolina University. This year, Hannah received a dual master's degree in Environmental Science and Public Affairs at the Indiana University (IU) O'Neill School of Public and Environmental Affairs, enhancing her public policy skills and broadening her scientific understanding of the environment.
Audrey Taylor
As the International Relations and Policy Fellow with the Bureau of Ocean Energy Management (BOEM), Audrey has been working on a variety of climate and energy issues. Her portfolio includes helping develop and implement new climate policies at the Department of Interior, supporting international and interagency outreach related to carbon capture and storage, preparing leadership for multilateral and bilateral meetings on offshore energy, and more. In particular, Audrey recently had the opportunity to travel to France to learn more about offshore wind energy, interact with industry, and get to know international counterparts.
Her trip included meetings in Paris with the International Energy Agency and the French Energy Regulatory Commission (Commission de Régulation de l'Énergie) and a visit to Nantes for the Floating Offshore Wind Turbines (FOWT) conference. At FOWT, she learned about the challenges and opportunities for floating offshore wind and took a boat tour of Saint-Nazaire, France's first commercial-scale offshore wind farm, and Floatgen, France's first offshore floating wind turbine.
With the remainder of her Knauss fellowship, Audrey hopes to continue engaging in policy and science related to climate, offshore wind, carbon storage, and other emerging energy issues. She is helping plan a technical trip to Norway for BOEM staff members to explore carbon storage sites and technology and hopes to support the U.S. delegation at the London Convention/London Protocol meeting in October.
Audrey Taylor recently finished her Ph.D. in Earth Sciences at the University of Notre Dame's Department of Civil and Environmental Engineering and Earth Sciences. Her doctoral research and her undergraduate degree at University of North Carolina Wilmington focused on understanding climates and environments through both space and time.
---
Illinois-Indiana Sea Grant is a partnership between NOAA, University of Illinois Extension, and Purdue University Forestry and Natural Resources, bringing science together with communities for solutions that work. Sea Grant is a network of 34 science, education and outreach programs located in every coastal and Great Lakes state, Lake Champlain, Puerto Rico and Guam.
Contact: Angela Archer