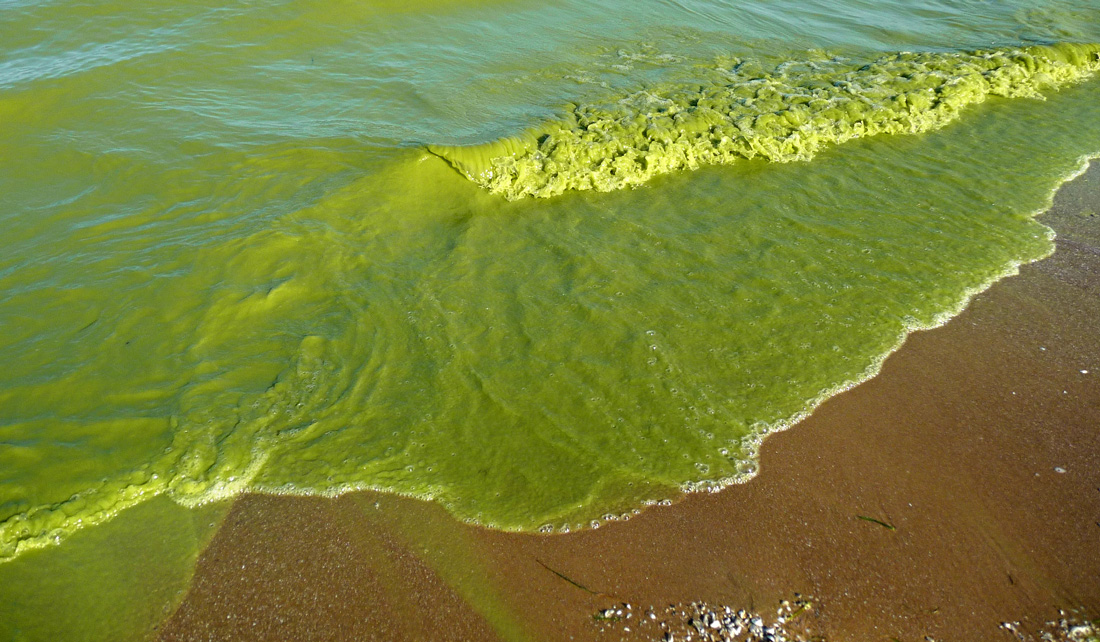 The shallow waters of Lake Erie become contaminated with toxin-producing bacteria during a harmful algal bloom, giving it a green tinge. (Michigan Sea Grant Photo/Tom Archer)
Lake levels continue to be above average and reaching near-record highs across the Great Lakes basin, causing problems with coastal erosion, flooding, infrastructure damage and economic loss. In addition to increasing lake levels and more nutrient runoff from stronger storms, the region is also experiencing warming weather and therefore warmer waters. Research points to climate change as the cause. Gabriel Filippelli, professor and director of the Center for Urban Health in the Department of Earth Sciences at Indiana University–Purdue University Indianapolis, references the March 2020 Quarterly Climate Impacts and Outlook Report for the Great Lakes Region—produced by Illinois-Indiana Sea Grant, Midwestern Regional Climate Center and partners—in a climate change story as part of the Pulitzer Center's nationwide Connected Coastlines reporting initiative. Read the full story: Climate change threatens drinking water quality across the Great Lakes. Excerpt below.
"Do Not Drink/Do Not Boil" is not what anyone wants to hear about their city's tap water. But the combined effects of climate change and degraded water quality could make such warnings more frequent across the Great Lakes region.

A preview occurred on July 31, 2014, when a nasty green slime – properly known as a harmful algal bloom, or HAB – developed in the western basin of Lake Erie. Before long it had overwhelmed the Toledo Water Intake Crib, which provides drinking water to nearly 500,000 people in and around the city.

Tests revealed that the algae was producing microcystin, a sometimes deadly liver toxin and suspected carcinogen. Unlike some other toxins, microcystin can't be rendered harmless by boiling. So the city issued a "Do Not Drink/Do Not Boil" order that set off a three-day crisis.

Local stores soon ran out of bottled water. Ohio's governor declared a state of emergency, and the National Guard was called in to provide safe drinking water until the system could be flushed and treatment facilities brought back on line.

The culprit was a combination of high nutrient pollution – nitrogen and phosphorus, which stimulate the growth of algae – from sewage, agriculture and suburban runoff, and high water temperatures linked to climate change. This event showed that even in regions with resources as vast as the Great Lakes, water supplies are vulnerable to these kinds of man-made threats.
---
Illinois-Indiana Sea Grant is a part of University of Illinois Extension and Purdue Extension.