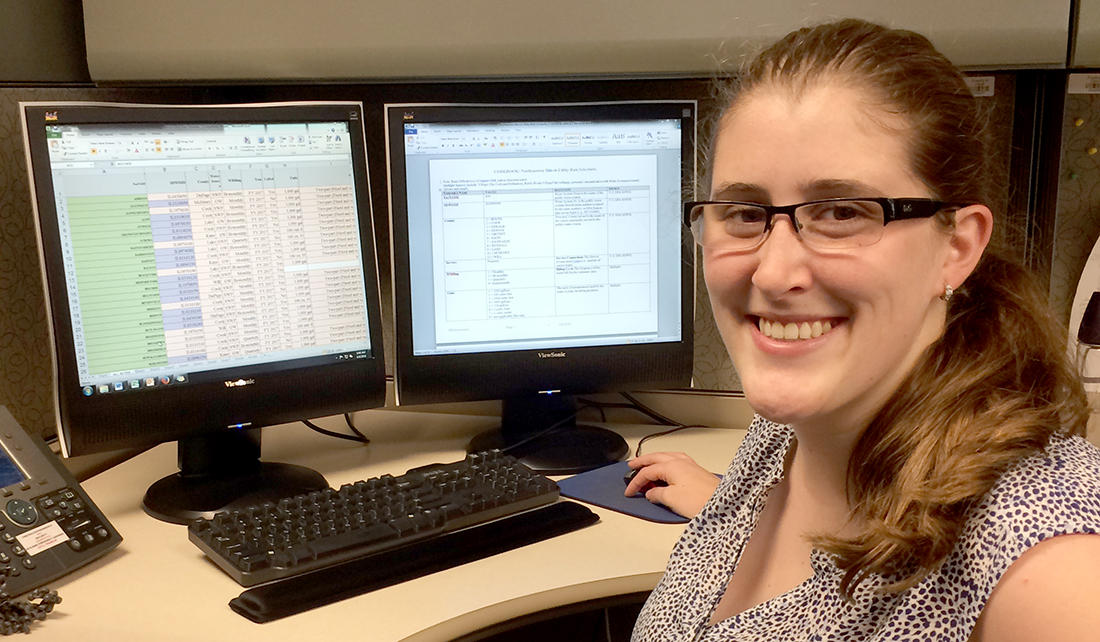 Lauren Schnoebelen interned in Chicago with IISG Water Resource Economist Margaret Schneemann. Lauren is a recent graduate from Northern Michigan University with a major in environmental science, a concentration in natural resources, and a minor in sustainability.
This summer I spent my time working as the Water Policy and Pricing intern for IISG at the offices of the Chicago Metropolitan Agency for Planning. I didn't really know what to expect. I was excited to work on policy issues and get familiar with township and village ordinances for water pricing, but I had never worked with large data sets before.
At first I was a little overwhelmed, but once I started getting the hang of it, I really enjoyed it because I got the opportunity to see what so many communities around me were doing to manage their water systems. After working for a month and a half on collecting as much data as I could get on water, sewer, and possible storm water rates, I needed to call village halls and water facilities to get any missing information.
The hope was to have all the rates available for the 2017 fiscal year. This gave me the opportunity to improve my communication skills by talking to dozens of people about what they charge their residents for water and sewer services. With this project done, I'm really excited to see how the final presentation of it will be in the Northeast Illinois Water and Wastewater Rates Dashboard.
Another opportunity that I was given was becoming a co-author of a published literature review. I helped to write about the economic value of ecosystem services in the Great Lakes region. This project allowed me to create and organize multiple tables displaying all the studies that were used in the paper and write summaries based on their subcategories of threatened ecosystem services. I also helped in editing and arranging the final layout of the literature review.
Throughout my summer, I was going to monthly meetings for the Northwest Water Planning Alliance and was involved in creating a community outreach brochure on establishing new lawns through seed or sod and their water requirements. This helped me see what communities are currently doing to work on water conservation and also how community outreach can lead to suggestions for policy change.
This internship gave me an opportunity that I haven't had before. I worked on so many different aspects of water conservation which gave me great experience in creating a database, academic research and writing, and community involvement and outreach. With these skills, I know I will be extremely competitive in finding a full-time position in my field.
Illinois-Indiana Sea Grant is a part of University of Illinois Extension and Purdue University Extension.