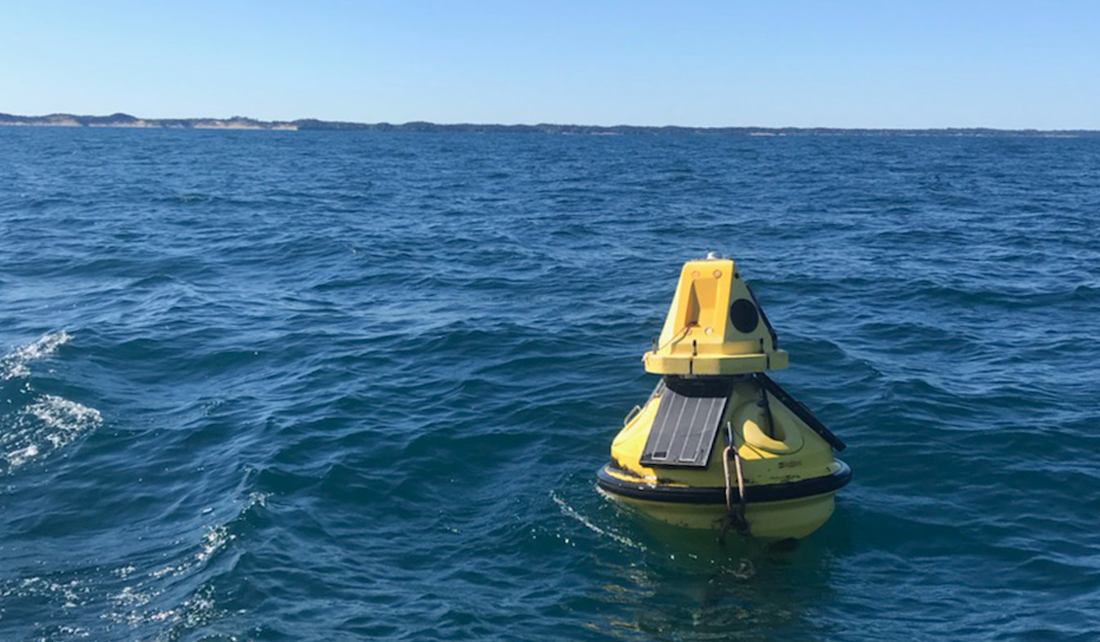 Illinois-Indiana Sea Grant's oldest Lake Michigan real-time monitoring buoy was badly damaged in August 2020. The buoy—which is moored 3.5 miles off Michigan City, Indiana, in about 64 feet of water—lost multiple solar panels as well as wind, air temperature and barometric pressure sensors, and suffered a broken mast.
"We knew something was wrong because the data weren't transmitting correctly, but when we got there we couldn't believe it", said Jay Beugly, Illinois-Indiana Sea Grant aquatic ecology specialist and chief buoy wrangler. "We're very disappointed because lots of people rely on that buoy's data."
Well-wishers were quick to reach out via email and @TwoYellowBuoys on Twitter, with meteorologists, engineers, boaters and lake lovers sending support. "It's always great to hear from people," Beugly shared, "but most don't know that we don't have a huge budget to deploy these buoys each year. Buoy support isn't mandated by our organization the way it is for other sections of NOAA—it's just a service that we really like to provide to help with water safety in southern Lake Michigan."
The Michigan City buoy has been deployed annually since 2012. In a typical year, the buoy requires minor upgrades to improve data transmission or minimal repairs to sensors and internal power systems. Illinois-Indiana Sea Grant works with the Purdue University Lyles School of Civil Engineering to ensure the buoy can consistently relay data from the lake, and relies on a supporting network of partners including LimnoTech, the National Data Buoy Center, the Coast Guard and the Indiana Department of Natural Resources to help keep things running for minimal cost. The damage suffered in August 2020 will be a major blow to the Illinois-Indiana Sea Grant real-time buoy program.
"Our real-time buoy program is incredibly popular, and we're committed to continuing it," said Illinois-Indiana Sea Grant Assistant Director Stuart Carlton. "We accept donations for the buoys via Purdue University, and we hope people consider helping out if they can. We know times are tough for everyone right now, and, regardless, we'll try to get the buoy back in the lake as soon as possible."
Instructions for donating can be found at https://iiseagrant.org/buoys/donate/. Questions related to the buoy program can be directed to Jay Beugly (jbeugly@purdue.edu) or iisg@purdue.edu.
---
Illinois-Indiana Sea Grant is a part of University of Illinois Extension and Purdue Extension.
Writer: Carolyn Foley, cfoley@purdue.edu
Contact: Jay Beugly, jbeugly@purdue.edu