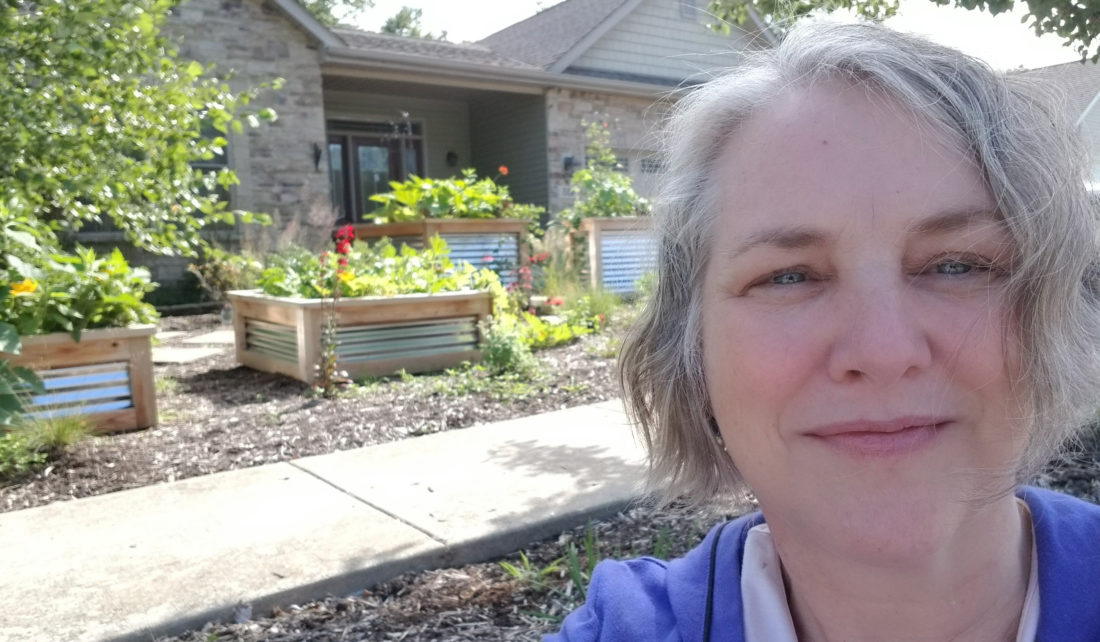 (Image courtesy of Kathy Sipple.)
When Kathy Sipple was homebound as many of us were this spring, she decided to use her training from the Indiana Master Watershed Steward program to transform her property.
"I designed the dry creek bed in my backyard. I put in a rain garden. I removed all the turf grass from my front yard and replaced it with native plants," she explained. "I really internalized that the training was about more than getting a certificate. I want my own land to reflect the best water practices that I could possibly do as a watershed steward."
The Indiana Master Watershed Steward program, which trains residents in the basics of maintaining and enhancing water resources, kicked off its first course in 2019. After completing 12 weeks of classes, participants become certified by then completing 35 hours of volunteer service.
"We developed this program because changes in local watersheds have led to a need for water sampling and other activities to better understand the conditions of our waterways and also to connect volunteers with organizations who engage in on-the-ground work," said Leslie Dorworth, aquatic ecology specialist for Illinois-Indiana Sea Grant and Purdue University Northwest. The IMWS program is a collaboration of more than 15 federal, university, regional, and local partners.
In its inaugural year, 14 people completed the training and 11 of those became full-fledged stewards. As part of their volunteering, stewards earned their certification by removing invasive species, monitoring stream water quality, cleaning up beaches, rehabilitating wildlife, planting rain gardens and more.
Sipple, who had a long history of volunteering for environmental activities in northwest Indiana, quickly achieved her certification by helping with invasive species removal projects and organizing a climate change meeting.
Another graduate of the stewardship program, David Klein began his involvement in volunteerism helping with labor issues. As he came to appreciate the natural beauty of the Calumet region, his volunteering activities followed suit, including putting in long days helping to clear debris from the East Branch of the Little Calumet Water Trail. He took the course, in part, due to his interest in hydrology.
This spring, Klein organized seven socially-distant beach cleanup events along the Indiana shore, at which 26 participants collected more than 300 pounds of trash.
"Beach cleanups can bring together people from diverse backgrounds and belief structures to work toward a common goal that benefits the community and is personally worthwhile and gratifying," said Klein. These events have now been suspended because many Indiana beaches are closed this summer due to the pandemic.
According to IMWS graduate Susan Swarner, the biggest benefit of volunteering after the training is that she has a deeper understanding of the issues surrounding watershed management than before. "This means that I can give more detailed programs and refine them for different interests, community groups, and age groups," she added.
With this year's classes canceled due to the pandemic, plans are in the works to retool the 2021 course to be in a virtual format. "This offers us the opportunity to incorporate panel discussions and podcasts, but also the chance for potential participants from throughout the state to take part," said Dorworth.
---
Illinois-Indiana Sea Grant is a part of University of Illinois Extension and Purdue Extension.
Writer: Irene Miles, miles@illinois.edu
Contact: Leslie Dorworth