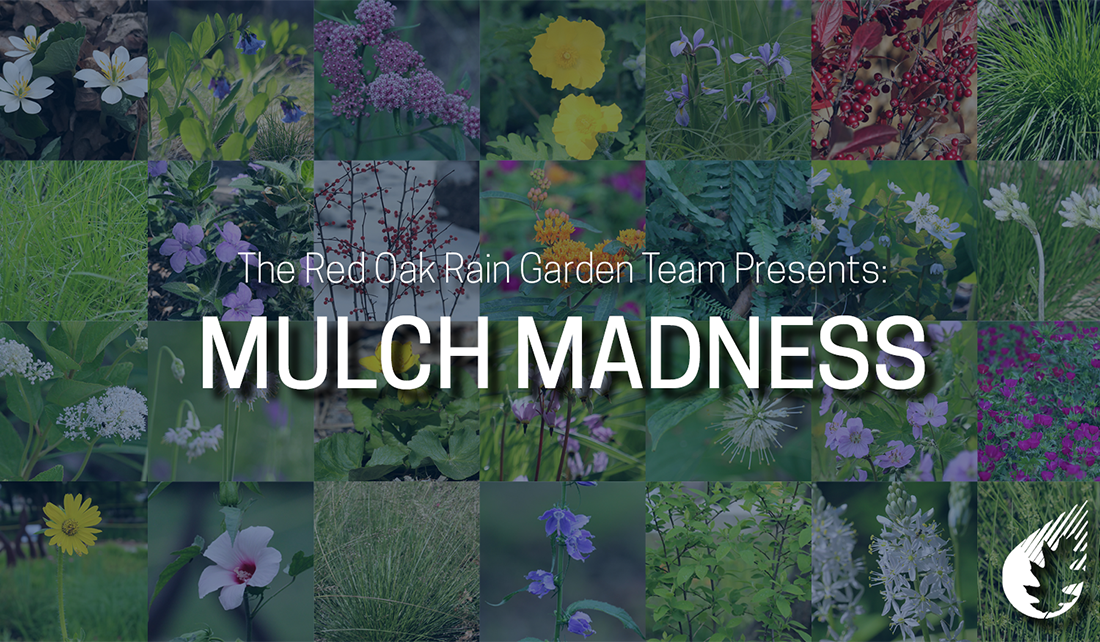 It's that exciting time of the year again, but we're not talking about basketball. Hold on to your gardening hats, sports fans — it's time for the Red Oak Rain Garden's FOURTH ANNUAL Mulch Madness contest! 🎉 Our tournament takes an educational spin, teaching people about native plants in a spirited, engaging, and competitive way.
HOW IT WORKS
Twenty-eight native plants from the Red Oak Rain Garden are battling it out for the title as this year's Champion. Your votes will determine which plant is the winner! All of the "games" are held through polls on RORG's social media. Follow @RainGardenUIUC to play along!
Matches take place on weekdays from Tuesday, March 14 to Thursday, March 30 at 11:00 AM and 6:00 PM. This is your chance to vote! You do not need to submit a bracket to participate in the games, but it is more fun that way! The winner with the most accurate bracket submission will receive a $20 gift certificate to their favorite local business (because buying local is better for the environment!).
HOW TO SUBMIT A BRACKET
Click on the bracket below.
In the tab that pops up, click the "download" icon
Fill it out with your picks and save the document. Please include your name! Note that you can learn more about the plants by clicking their names in the bracket.
Submit it to uie-redoakraingarden@illinois.edu by Tuesday, March 14 at 10:00 AM.
To enter, click on this bracket, download it, fill it out, and send to UIE-RedOakRainGarden@illinois.edu
RULES
One bracket entry per person. Brackets must be submitted by Tuesday, March 14 at 10:00 AM Central Time. Games start at 11:00 AM the same day.
The winning bracket is chosen based on the ESPN Fantasy scoring system.
A correct pick in each round is shown below:

Round 1: 10 points per pick
Round 2: 20 points per pick
Round 3: 40 points per pick
Round 4: 80 points per pick
Championship: 160 points per pick
PRIZE
Your points are totaled according to correct guesses, so the person with the most accurate bracket receives a special reward from us: A $20 gift certificate to a local business of your choice! The business must have a gift certificate option available.
Good luck, gardeners. We look forward to another year of Mulch Madness… May the best plant win!
Previous Winners
2022- Wild Hyacinth
2021- Virginia Bluebells
2020- Butterflyweed
#MulchMadness2023
---
Illinois-Indiana Sea Grant is a partnership between NOAA, University of Illinois Extension, and Purdue University Forestry and Natural Resources, bringing science together with communities for solutions that work. Sea Grant is a network of 34 science, education and outreach programs located in every coastal and Great Lakes state, Lake Champlain, Puerto Rico and Guam.
Contact: Eliana Brown, Layne Knoche