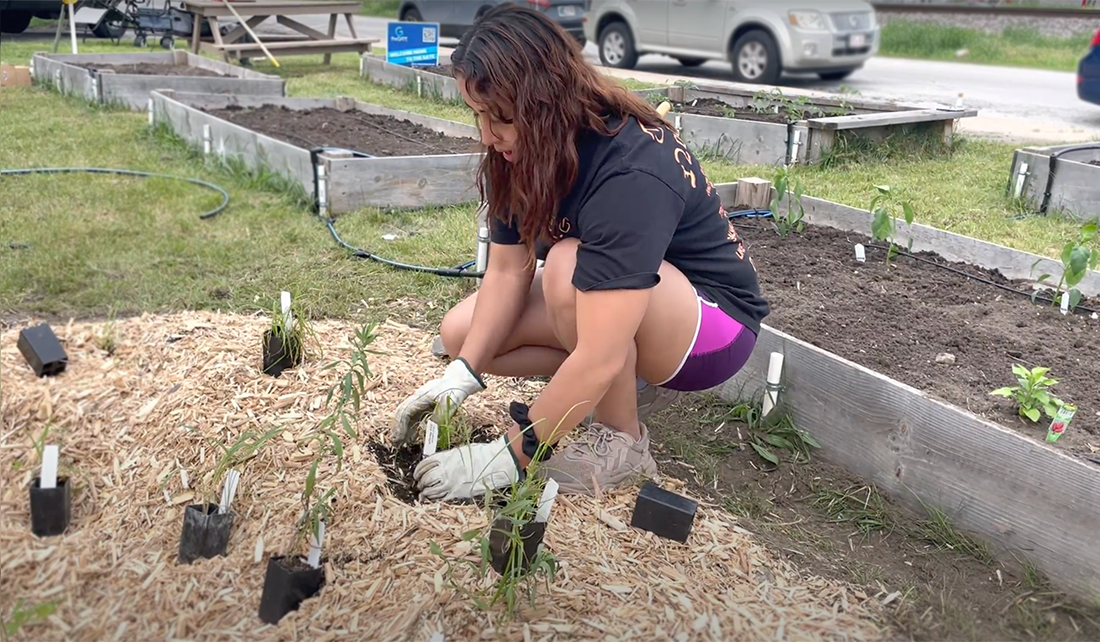 Angelica Weaver was determined to create a communal gardening and gathering space in the middle of her Hammond, Ind., neighborhood, even if that meant carrying buckets of water from nearby houses to water the plants while she was eight months pregnant.
Weaver, a social worker and organizer of the InnerMission Neighborhood Farm, said after meeting Purdue Extension educators at a neighborhood meeting, she reached out about assistance in creating a fully functional garden space on a vacant lot that had no access to potable water. Kara Salazar, assistant program leader and Extension specialist for sustainable communities, and Sara McMillan, former associate professor in Agricultural and Biological Engineering, partnered with Purdue Extension to assist the InnerMission Neighborhood Farm, as well as a community garden center in nearby Michigan City. Their team was a collaboration among Illinois-Indiana Sea Grant, Minnesota Sea Grant and Pennsylvania Sea Grant programs, all part of the National Sea Grant College Program, a federal/university partnership between the National Oceanic and Atmospheric Administration (NOAA) and 34 university-based programs. They were awarded funds to support this work through a national competition aimed at creating water equity with their project "One Block at a Time."
Read the full story of how IISG helped create a green space full of life in what was once a vacant lot in an underserved community: https://ag.purdue.edu/news/2022/11/national-sea-grant-partnerships-address-water-equity-in-marginalized-neighborhoods.html.
---
Illinois-Indiana Sea Grant is a partnership between NOAA, University of Illinois Extension, and Purdue University Forestry and Natural Resources, bringing science together with communities for solutions that work. Sea Grant is a network of 34 science, education and outreach programs located in every coastal and Great Lakes state, Lake Champlain, Puerto Rico and Guam.