Jay Beugly of Illinois-Indiana Sea Grant and Purdue Forestry and Natural Resources works with graduate student David Cannon of Purdue Civil Engineering to check sensors before deploying the Michigan City, Indiana buoy in May 2018. (Illinois-Indiana Sea Grant Photo/Hope Charters)
One of the most common questions Illinois-Indiana Sea Grant (IISG) gets during the springtime is, "When will your buoys be out on the water?" When the weather begins warming up for the year, boaters, anglers and other users of Lake Michigan rely on buoy data to make decisions about when they will visit the lake and whether it is safe to boat, swim, kayak, or do other activities.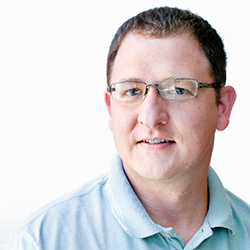 In Episode 11 of Teach Me About the Great Lakes, titled "An Empty Chunk of Fiberglass," Illinois-Indiana Sea Grant's Stuart Carlton and Hope Charters talk with Jay Beugly, aquatic ecology specialist with Purdue University's Department of Forestry and Natural Resources and IISG, about buoy deployment and retrieval each year. He discusses the issues faced during the pandemic, and why university policies and state regulations have delayed deployment. Beugly also gives listeners insights into technical problems the buoys sometimes experience while out on the water.
Teach Me About the Great Lakes is a monthly podcast in which Carlton—a social scientist who grew up in the South near the Gulf of Mexico—asks people to explain the biology, ecology and natural history of the Great Lakes. A new episode will be released on the first Monday of each month. The latest episode is embedded below.
If this isn't enough buoy content for you, check out our How Buoys Help page and Two Yellow Buoys on Twitter.
Love this episode and want to hear more in the future? Subscribe on Apple Podcasts or Spotify, or use the RSS feed in your favorite podcast player.
If you have questions you want answered about the Great Lakes, reach out to @TeachGreatLakes on Twitter or email Stuart Carlton at jsc@purdue.edu.
---
Illinois-Indiana Sea Grant is a part of University of Illinois Extension and Purdue Extension.