Skip to content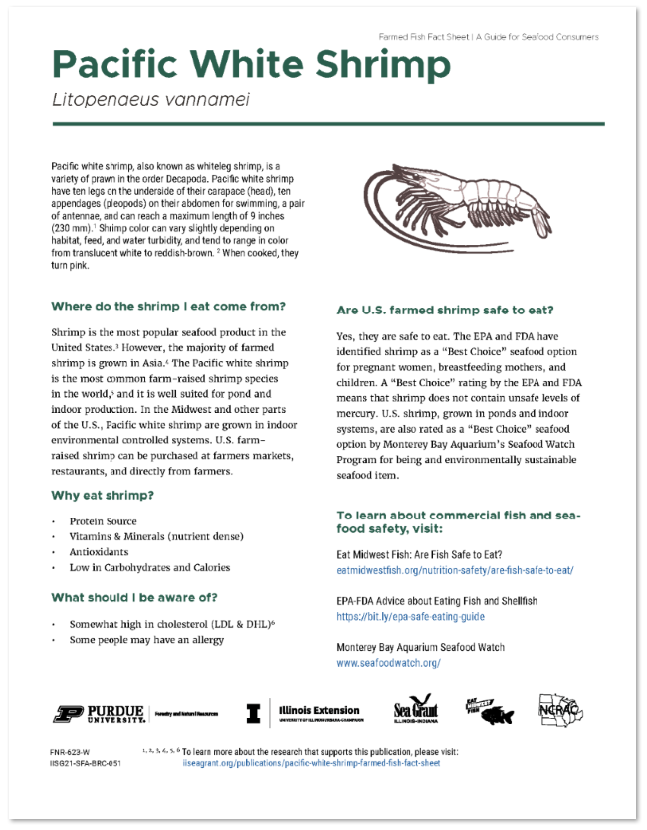 File Type:
pdf
File Size: 3.87 MB
Media Type:
Fact Sheet | Brochure | Poster | Extension Report | Research Summary
Publication Number:
IISG21-SFA-BRC-051
Pages:
2
Description:
This is the fifth in a series of consumer guides that describe fish and shellfish farmed in the Midwest region of the United States. (See Walleye Farmed Fish Fact Sheet, Yellow Perch Farmed Fish Fact Sheet, and Tilapia Farmed Fish Fact Sheet). The fact sheet also includes culinary characteristics, cooking tips, and a recipe for Sautéed Old Bay® Shrimp
References:
FAO. 2009. Penaeus vannamei. In Cultured aquatic species fact sheets. Text by Briggs, M. Edited and compiled by Valerio Crespi and Michael New. CD-ROM (multilingual). http://www.fao.org/fishery/docs/DOCUMENT/aquaculture/CulturedSpecies/file/en/en_whitelegshrimp.htm.
Bernal Rodríguez CE, García AC, Ponce-Palafox JT, Spanopoulos-Hernández M, Puga-López D, et al. (2017) The Color of Marine Shrimps and Its Role in the Aquaculture. Int J Aquac Fish Sci 3(3): 062-065. DOI: 10.17352/2455-8400.000030
National Fisheries Institute (NFI). 2018. "Top 10 List Shows Significant Increase in Seafood
Consumption." Available online: https://aboutseafood.com/press_release/top-10-list-shows-significant-increase-in-seafood-consumption/
FAO. 2018. The State of World Fisheries and Aquaculture 2018 – Meeting the sustainable development goals. Rome. License: CC BY-NC-SA 3.0 IGO.
Ray, A.J. 2019. Indoor Marine Shrimp Farming. SRAC Pub No. 2602. Available online: http://www.ksuaquaculture.org/PDFs/Ray_SRAC%202019-Indoor%20Shrimp%20Farming.pdf
E R De Oliveira e Silva, C E Seidman, J J Tian, L C Hudgins, F M Sacks, J L Breslow, Effects of shrimp consumption on plasma lipoproteins, The American Journal of Clinical Nutrition, Volume 64, Issue 5, November 1996, Pages 712–717, https://doi.org/10.1093/ajcn/64.5.712.
‡Note: Old Bay Seasoning is a registered trademark of McCormick & Company.
Download File
Creators
Amy Shambach
Year
2021
Focus Areas
Sustainable Fisheries and Aquaculture
Topics
Aquaculture