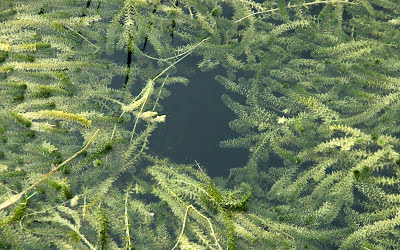 INVASIVE SPECIES EDITION—Where we take a moment to explore the species that threaten the Great Lakes region.
What was originally seen as a decorative and easy-to-maintain aquarium plant is now one of the most noxious weeds in the U.S. Sold under the name "Indian star-vine" in the late 1950s, Hydrilla verticillata was first introduced after live samples were shipped from Sri Lanka to a Florida aquarium dealer. More than half a century after careless disposal into Florida's waterways, hydrilla can now be found throughout the south and along the east coast, with populations extending inland to the Great Lakes region. Isolated communities have also been found in Idaho and Washington.
This spread is not surprising since hydrilla is unusually hardy and versatile. It can grow in as little as a few inches of water or as much as 20 feet. It requires very little light to thrive and is just as happy in a nutrient-rich environment as one deprived of nutrients almost all together. It can even grow in slightly salty conditions or in water as hot as 81°F. And while it can spread through seeds, hydrilla is also able to grow from stem fragments as well as tubers that can lie dormant for up to four years. Taken together, it's little wonder that this perennial is found on every continent except Antarctica.
Hydrilla's unique biological characteristics give it a leg up over many native plants in the Great Lakes region. For example, its early sprouting season and ability to grow rapidly leaves less light for natives later in the spring, making it harder for them to grow once they begin to sprout.
These same characteristics also make it a n
uisance to other aquatic wildlife and humans. Growing as long as 30 feet, hydrilla vines form dense mats that alter the water's pH and oxygen levels, which in turn makes it difficult for some fish species to reproduce and grow. These mats can also impede irrigation, hinder recreation, and clog water intakes to power plants.
Efforts to contain hydrilla have been historically cautious out of fear that the robust plant may mutate or develop a resistance to chemical herbicides—a fear that was realized when fluridine-resistant hydrilla was found in Florida. Today the Asian hydrilla leaf mining fly, weevils, and even the invasive grass carp are used to manage hydrilla invasions. These and other methods cost states millions of dollars a year.
In recent years, Illinois and Indiana have banned the sale, barter, and transport of hydrilla. Water gardeners, aquarium hobbyists, and others can learn how to recognize the plant—and distinguish it from the invasive Brazilian elodea—with our species WATCH card.
We'll have more species spotlights on aquatic invaders throughout May in honor of Illinois Invasive Species Awareness Week.