For the month of January, the Sea Grant 50th is focusing on K to Gray education—yes, that includes everyone—and within IISG there is no shortage of resources for all ages.
Terri Hallesy who has been with the IISG education team for 13 years has seen teaching trends change over the years, but in the end, she knows it's really very simple.
"I just enjoy working with all the dynamic, engaging specialists," Hallesy says. "They each focus on diverse programs and target different audiences. What's great is they're always ready to collaborate using the latest and most relevant educational tools."
Below we are highlighting five of the projects the education team has produced—in collaboration with specialists, other Sea Grants, as well as educators—that capture that cooperative spirit.
Nab the Aquatic Invader!
Launched in 2009, this website focuses on the suspects–aka the invasive species–in four regions of the country: Atlantic, Pacific, Gulf, and Great Lakes. In each region, visitors can see read interrogation interviews with the 10 Most Wanted AIS and learn their origin, problems they cause, and some control methods used to slow the spread of these species. The project was featured in the Smithsonian in 2010.
Collaborators included New York, Michigan, Wisconsin, Pennsylvania, and Ohio Sea Grants.
Illinois-Indiana Sea Grant's (IISG), The Medicine Chest, invites high school students to metaphorically open up those doors and investigate what makes those chemicals harmful to people, pets, and the environment when improperly disposed. The curriculum was updated last year.

Collaborators included Pennsylvania Sea Grant, U.S. EPA Great Lakes National Program Office, and Paul Ritter and Eric Bohm, P2D2 Program Administrators.
Sensible Disposal of Unwanted Medicines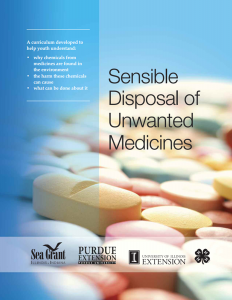 When medications are flushed down the toilet, wastewater treatment plants can't always filter out the harmful chemicals that can affect wildlife and even get into drinking water supplies. This 4-H guidebook and curriculum, designed for informal education audiences, provides five inquiry-based lessons to help high school youth understand the harmful effects of improper disposal of medicines and what they can do to help.

Collaborators included 4-H and Penn High School, Mishawaka, Indiana.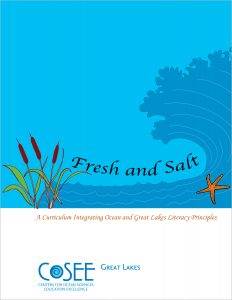 Fresh and Salt
Fresh and Salt is a collection of activities that enhance teacher capabilities to connect Great Lakes and ocean science topics. Designed to be used by teachers in grades 5-10, this curriculum provides an interdisciplinary approach to ensure that students achieve optimum science understanding of both Great Lakes and Ocean Literacy Principles.
Collaborators included Centers for Ocean Science Education Excellence and Ashland University.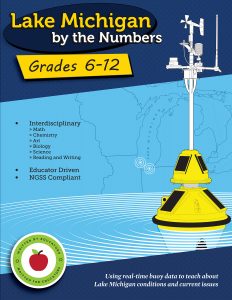 Lake Michigan by the Numbers
This curriculum was created by teachers who attended a day-long workshop to learn how to incorporate buoy data into their classroom instruction. They created these data-rich, STEM-based lesson plans that boost understanding of Great Lakes issues by incorporating real-time data from Great Lakes buoys.
Collaborators included Indiana Department of Natural Resources, Lake Michigan Coastal Program, and Center for Great Lakes Literacy.
Illinois-Indiana Sea Grant is a part of University of Illinois Extension and Purdue Extension.