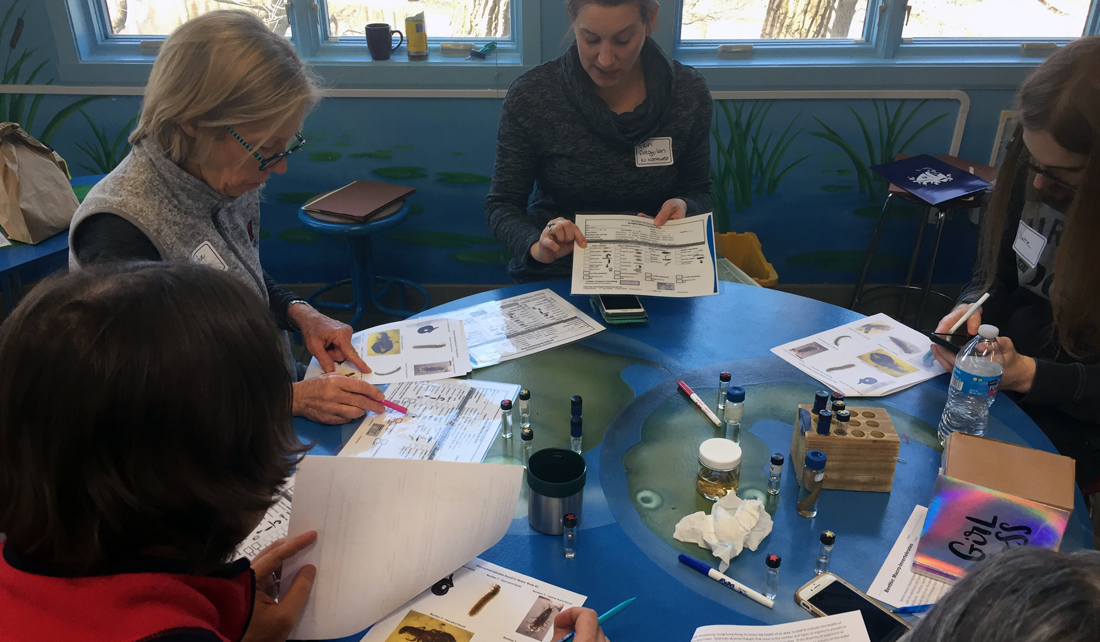 Erin Argyilan, professor in the Department of Geosciences at Indiana University Northwest, teaches workshop participants about how macroinvertebrates can indicate the health of sediment and water.
Educators recently enjoyed a day-long workshop investigating water quality and learning how to empower students to protect their local watershed at the Indiana Dunes National Park's Paul H. Douglas Center for Environmental Education. The workshop was designed to provide teachers with an opportunity to incorporate the latest place-based research and education concepts about the Great Lakes into their curriculum, encouraging student stewardship, community development and continuing science education.
Topics included learning about watersheds and water quality stressors from the Healthy Water Healthy People curriculum, issues surrounding invasive Asian carp, impacts to our waterways from unused medicine and how to incorporate real water monitoring equipment into classroom learning.
"The use of water quality monitoring equipment better connects students to their environment and makes science more real for them," said Kristin TePas, community outreach specialist for Illinois-Indiana Sea Grant (IISG). The Hydrolab monitoring equipment is available for teachers to use with their students, courtesy of the Limno Loan program through a partnership between IISG and the U.S. EPA Great Lakes National Program Office.
During the workshop, IISG's Education Coordinator, Terri Hallesy, shared education activities from the Center for Great Lakes Literacy (CGLL). CGLL engages educators, students, scientists and lifelong learners in stewardship and citizen science projects to help protect and restore Great Lakes watersheds.
"A major focus of the workshop was creating awareness of Great Lakes Literacy Principles, a great foundation from which to create an environmental stewardship ethic," said Hallesy. Teachers were provided with hands-on sessions throughout the day to engage students and the community to make effective decisions about protecting and sustaining our waterways.
In addition to receiving a copy of the Healthy Water Healthy People curriculum, participating teachers will receive a stipend upon facilitation of a stewardship or water quality monitoring project with their students.
The workshop was co-sponsored by Indiana Dunes National Park, Illinois-Indiana Sea Grant, the Center for Great Lakes Literacy, Indiana University Northwest, Indiana Department of Natural Resources Division of Fish and Wildlife, Dunes Learning Center and the Great Lakes Research and Education Center.