Posted June 25th, 2020 in
Aquaculture
,
Climate Ready Communities
,
Featured
,
Fisheries
,
Funded Research
,
Great Lakes Data
,
Healthy Waters
,
News
,
Sea Grant Scholars
,
Stormwater & Green Infrastructure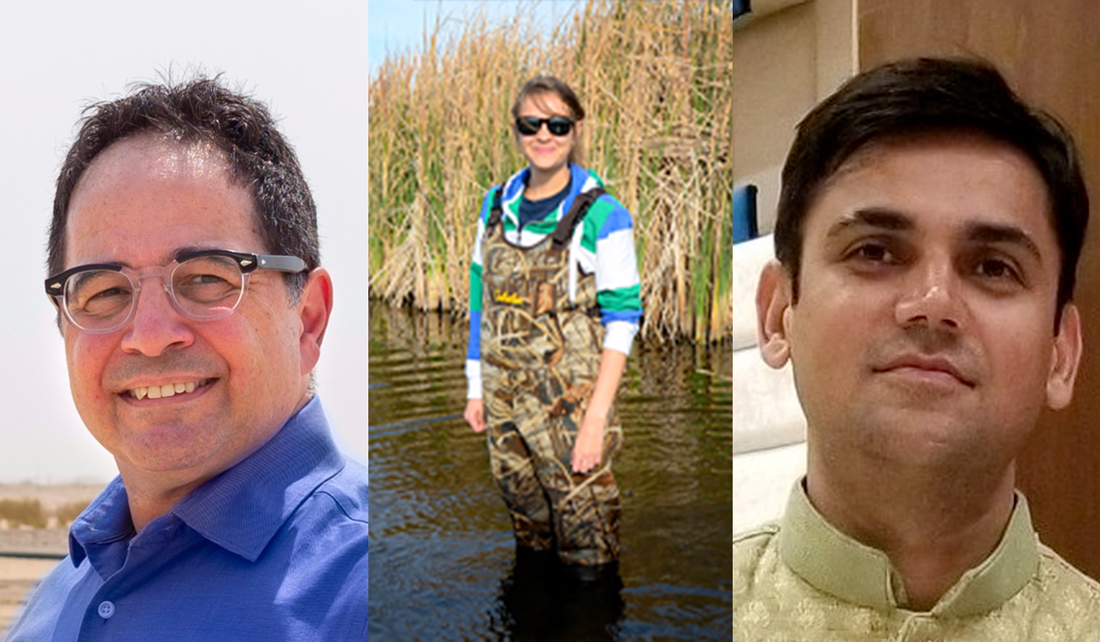 William Bianco, Sophie Taddeo and Pranshoo Solanki are IISG's new Sea Grant Faculty Scholars.
Illinois-Indiana Sea Grant (IISG) announces the second group of researchers selected for the Sea Grant Faculty Scholars program. Established in 2019, the program seeks to help develop a community of scientists to work on critical issues related to Lake Michigan and the Great Lakes region.
"Through this program, we encourage researchers working in Illinois or Indiana to learn about issues facing our stakeholders," said Tomas Höök, IISG director. "We provide funding and opportunity for one year. During this time, faculty scholars work with our stakeholders or program specialists to develop preliminary research products, but scholars must then develop and submit a larger proposal to another funding source to continue to address these issues."
The inaugural faculty scholars cohort is wrapping up their projects. Karolina Kwasek of Southern Illinois University Carbondale is compiling knowledge from a variety of sources, including peer-reviewed literature and local fish farmers, to develop a protocol for raising young largemouth bass using indoor systems. (Kwasek was also funded for a related project.) Sundeep Inti of Purdue University Northwest is exploring the use of permeable concrete, which can allow water to pass through, as a way to address increased runoff due to larger storms and more urbanization. Finally, Max Melstrom from Loyola University Chicago examined recreational fishing license fees, including whether the amounts are fair and are optimal to encourage participation and meet budget needs. Melstrom is also working with the Great Lakes Aquaculture Collaborative, an effort to increase aquaculture production and sales in the region, assessing consumer values and willingness to pay for a variety of aquaculture products.
"The faculty scholar program provided the financial support and networking that has allowed me to do these projects," said Melstrom. "I can say, without any hesitation, that being a part of this program has helped move my research program forward."
The second group of faculty scholars began their projects on June 1, 2020. The new participants include William Bianco, a professor of political science at Indiana University, who will survey Indiana coastal communities to assess what steps they have taken in terms of climate readiness. Sophie Taddeo, a new researcher at the Chicago Botanic Garden and plant biology and conservation faculty member at Northwestern University, will use years of satellite data to help inform the restoration and management of Great Lakes coastal wetlands. And Pranshoo Solanki, an associate professor of civil engineering at Illinois State University, will take the first steps toward assessing the use of dredged material collected near Calumet Harbor as a substitute for sand in new construction material.
Höök looks forward to the future of the faculty scholars program. "We are excited to have a second cohort of faculty scholars. Our goal over time is to ensure the program grows and supports both the scholars and our stakeholder groups."
---
Illinois-Indiana Sea Grant is a part of University of Illinois Extension and Purdue Extension.
Writer: Irene Miles, miles@illinois.edu