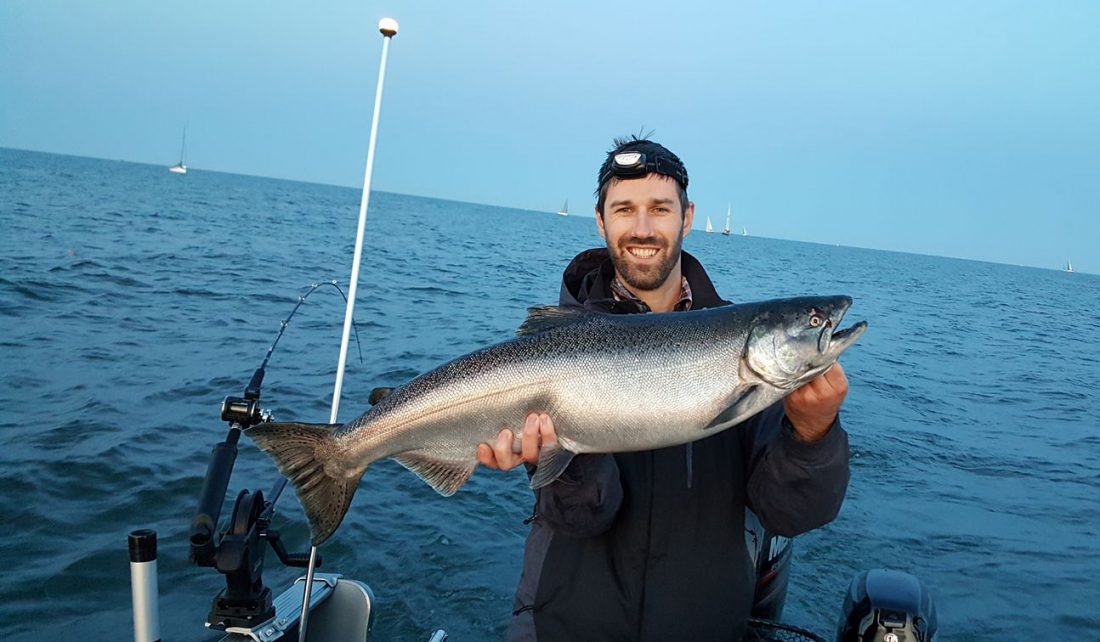 Chinook salmon are a popular sport fish in Lake Michigan. (Ben Dickinson)
Over the past few decades, invasive species like zebra and quagga mussels have been eating up much of the base of Lake Michigan's food web, affecting organisms throughout the lake, including alewife, a staple meal for salmon and trout. As menu options shift for these top predators, their success going forward may depend on expanding their diets.
A lake-wide study of salmon and trout conducted in 2015–16 found that diet flexibility varies among salmon and trout species, but Chinook salmon, the favorite of many anglers, are basically eating only alewife.
"This study describes how salmon and trout feeding patterns respond to the ever-changing Lake Michigan food web," said Tomas Höök, Illinois-Indiana Sea Grant director. "Of particular concern, as alewife have been declining in abundance, the seeming inflexibility and continued reliance on alewife by Chinook salmon may not bode well for this highly prized species."
Scientists from around the region got to the bottom of what five salmon and trout species in Lake Michigan eat in a direct way—they analyzed stomach contents. To do this on a lake-wide scale, they relied on help from the U.S. Fish and Wildlife Service (USFWS) and state Departments of Natural Resources around the lake. Agency creel survey clerks interviewed anglers and gathered data as well as fish stomachs. The Little Traverse Bay Bands of Odawa Indians also contributed from what they caught in their nets.
"It was a huge effort to accomplish something like this, so we needed help from just about everybody around the lake," said Ben Leonhardt, who worked on this project as part of his Purdue University master's degree and is now with the USFWS. "The anglers were the most important contributor—they took time out of their days to provide us with what we needed."
The research team found that all five salmon and trout species ate alewife. But, unlike Chinook salmon, which almost exclusively consumed alewife, coho salmon also ate aquatic invertebrates. Lake trout and brown trout were less reliant on alewife, adding round goby to their diets, while rainbow trout also ate insects.
The story can get more complicated when factoring in location and season. "In the spring and only in the southeast portion of the lake, coho salmon were full of mysis," said Leonhardt. "Anglers have noticed this at that time of the year, but it's never been documented before." Mysis, also known as opossum shrimp, is a tiny crustacean.
Also in the spring, along the Michigan side of the lake, brown trout and lake trout ate more round goby than alewife, but on the westside it was the opposite—brown and lake trout ate more alewife than round goby. One likely explanation for that difference is terrain. The gobies are able to hide on the rocky westside, but the sandy eastside offers no cover.
While alewife and round goby, both non-native species, were the prey fish of choice for salmon and trout, other fish like bloater or sculpin were also available and sometimes in greater abundance. Nonetheless, researchers rarely found these native species in the predators' diets.
One explanation for the salmon's preference for alewife could be their silvery appearance. "Salmon are really interested in shiny objects—they're really distracted by them," said Austin Happel, a research biologist with Shedd Aquarium who has continued to be involved in this project since his tenure as a University of Illinois doctoral student.
Most of Lake Michigan's salmon and trout species are non-native too, and they all have been stocked into the lake going back many decades. Understanding what these fish are eating and keeping predators and prey in balance is critical to maintaining a healthy fishery.
"Previous to this study, for coho salmon, brown trout and rainbow trout, resource managers have used diet compositions from the 1980s," said Happel. "Now we know those species are not only eating alewife anymore. They're also eating quite a bit of terrestrial insects and round goby. This can be included into stocking models to get a more complete prediction of how many fish—salmon and trout of different species—that the lake can handle."
This project was the first part of a larger diet study assessing salmon and trout diets using three methods that assess diets at different timescales. This piece of the study, analyzing stomach contents, indicates what fish ate the day they were caught or maybe the day before. Second is to look at fatty acids in the fish, which show a longer time frame—what the fish ate over several weeks. The final piece is analyzing stable isotope ratios in fish tissues, revealing several months of a fish's diet.
"Understanding changes in the Great Lakes ecosystem through solid scientific studies, such as the work by this team, is pivotal to inform fishery managers in their decision making," said Tammy Newcomb, Michigan Department of Natural Resources senior water policy advisor and co-chair of the Great Lakes Fishery Trust Science Advisory Team.
The research was funded by Illinois-Indiana Sea Grant, the Great Lakes Fishery Trust and the Great Lakes Restoration Initiative. "Diet complexity of Lake Michigan Salmonines: 2015–2016" is available in the Journal of Great Lakes Research online now, and in the August print edition.
---
Illinois-Indiana Sea Grant is a part of University of Illinois Extension and Purdue Extension.
Writer: Irene Miles, miles@illinois.edu