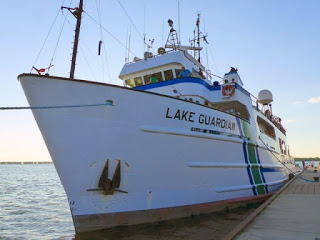 Fifteen educators from six states surrounding the Great Lakes are getting the chance to be scientists in the field – or rather water – during this year's Shipboard Science Workshop in Lake Michigan on the Lake Guardian, the U.S. EPA Great Lakes National Program Office (GLNPO) research vessel. The annual workshop will take place the week of July 12-18 and is hosted by Illinois-Indiana Sea Grant (IISG).
The teachers, alongside four research scientists from U.S. EPA GLNPO, University of Wisconsin-Milwaukee and Loyola University Chicago, will take part in sampling to evaluate the presence of microplastics and assess the impact of aquatic invasive species, especially zebra and quagga mussels.
And as part of the workshop, teachers will be able to analyze the samples in on-board laboratories. The hope is that the teachers will take their experiences back to the classroom and inspire their own students to want to do scientific exploration of the Great Lakes.
This workshop is IISG community outreach specialist Kristin TePas' fifth, and she never tires of seeing teachers learning and researching in the field.
"Aside from the concept of educators working side by side with scientists collecting and analyzing data, these cruises have a lot of variation from year to year because the scientists change and thus the focus of research taking place is often different," TePas said.
"I always look forward to watching how the educators take to the whole experience. They come on rather green and leave at the end of the week looking like they have always lived on the ship and working like a well-oiled machine with the field sampling and then analyzing in the lab."
Bonnie Sansenbaugher, a teacher from last year's workshop on Lake Erie, made sure she took advantage of the experience and didn't return to her classroom empty-handed.
"As we were covering the curriculum portion of the workshop I was making notes of which lessons I will use for which class and which month I will cover that topic," she wrote on the Center for Great Lakes Literacy blog.
On July 12, the ship will set sail from Milwaukee, with stops in Manitowoc, WI on the 14th, and Frankfort, MI on the 16th. This year, four educators from Illinois and two from Indiana will be making the trip.
Teachers will be tweeting and blogging on this cruise as well. Look for them on twitter at #lakeguardian and on the Teacher Features page on the CGLL website.
Each year a different lake within the world's largest freshwater system goes under the microscope for this kind of intensive look-see. Next year it's Lake Superior's turn.
This workshop is funded through the Great Lakes Restoration Initiative. Wisconsin Sea Grant was a key partner in planning this year's event.
-Abigail Bobrow