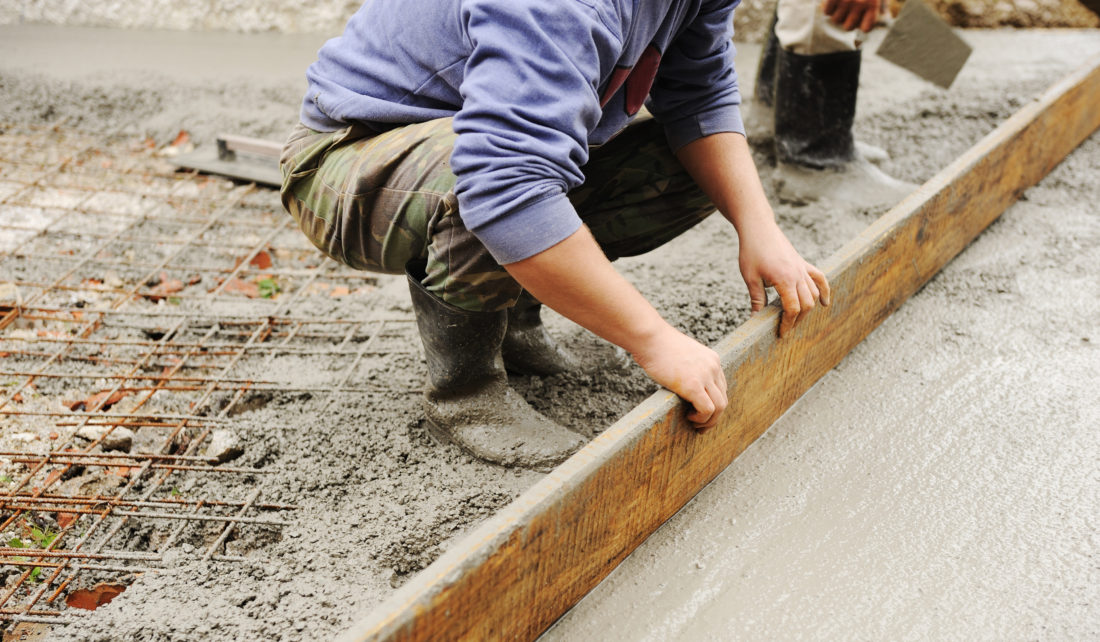 It takes a lot of energy to make concrete—in fact, the process accounts for 8% of all carbon emissions. Making and installing concrete can also be a drain on limited natural resources. To address this, two Illinois-Indiana Sea Grant faculty scholars explored different ideas that might help make concrete more environmentally friendly.
Sundeep Inti, a civil engineer at Illinois State University (ISU) turned his attention to making permeable concrete in parking lots more sustainable. Permeable concrete can absorb rainwater and, therefore, reduce flooding after storms and help protect water quality, but constructing it can use a lot of energy.
Thick layers of aggregate, like crushed rocks, are frequently placed under the concrete to clean and store water. However, aggregate is becoming a scarce resource in many cities and needs to be hauled from longer distances, increasing the cost and the carbon footprint.
"The cost of aggregate transport in congested urban areas can be three to four times more expensive," said Inti.
He experimented with replacing the aggregate with permeable low-density cellular concrete—a mixture of cement, water and preformed foam.
"It resembles shaving foam, which contains internal microscopic pores," Inti explained. "When the foam is mixed with cement and water, the air voids occupy a significant volume and, when the liquid concrete has hardened into a solid, provides a porous texture."
By using cellular concrete to replace half the aggregate, Inti landed on an effective recipe, both for strength and permeability. "The developed material is strong yet lightweight, which reduces the burden on weak soils in the southern Lake Michigan area," he said.
One drawback of using the cellular concrete—the water released is higher in alkalinity than from natural materials like sand and stone. Inti is experimenting with additives to reduce that. He also suggests that the water can be filtered before it is released into the environment.
Pranshoo Solanki, who along with Inti, teaches at ISU in the Department of Technology, is also exploring ways to reduce the use of aggregate in construction. His idea is to make use of the extensive supply of dredged material that is taken from waterways to open navigation channels.
Dredged sediment is composed of different sized solid particles and a high quantity of water. And there is a lot of it—available dredged sediment could cover 23,585 football fields a yard deep, so finding more uses for dredged sediments could be a win-win.
"Dredged material is considered problematic for use in concrete because of its lack of strength, its variability and its potential to be contaminated," said Solanki. Instead, he experimented with a variation on concrete—flowable fill—to see if dredged sediment could effectively replace sand in this product.
Flowable fill, or non-structural controlled low-strength materials, is a cement-based construction material commonly used for backfilling trenches or other excavations, and in soil stabilization. As the name implies, it is a flowable liquid and it allows voids to be easily filled but is sufficiently low in strength to allow for easy re-excavation.
Using dredged material samples from two locations, including at Calumet Harbor in the southern Lake Michigan region and along the Illinois River, Solanki tested nine different mixes for critical flowable fill qualities. He found that the results varied depending on the characteristics of the dredged material itself but that overall, the sediment can be used as a substitute for sand in flowable fill.
"The use of dredged sediment in flowable fill could reduce barriers to reusing dredged material more broadly as a sand substitute in concrete mixes," said Solanky. "The risks from under performance in flowable fill are small compared to structural or pavement concrete. Local ready-mix plants can gain experience and confidence with dredged material, encouraging its application in other concrete mixes."
Solanky and Inti are two of nine faculty and seven graduate students who are or have been IISG scholars. The program helps develop a community of scientists to research critical issues related to Lake Michigan and the Great Lakes region through funding and other opportunities for one year.
---
Illinois-Indiana Sea Grant is a part of University of Illinois Extension and Purdue Extension.
Writer: Irene Miles
Contact: Carolyn Foley