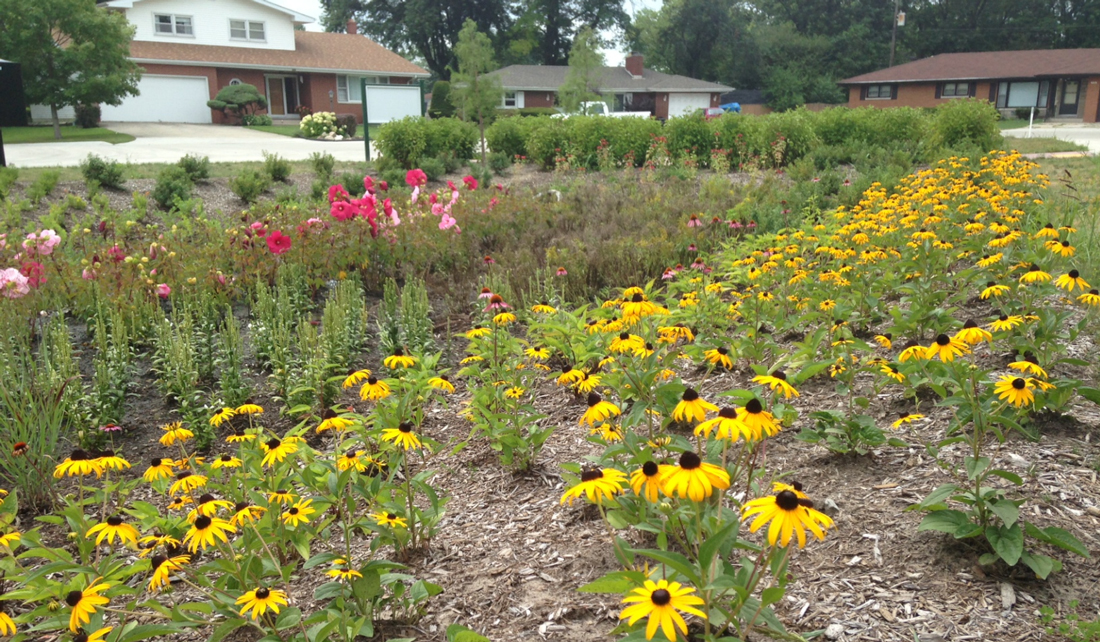 Sea Grant announced three initiatives this week, all focused on freshwater systems and management. Projects include managing stormwater to reduce flooding in the Great Lakes, examining contaminants of emerging concern along the East Coast and mitigating pollution resulting from runoff in the mid-Atlantic region.
"Sea Grant's latest investments demonstrate our commitment to address knowledge gaps to improve the management of freshwater resources at the interface of both coastal and Great Lakes environments," said National Sea Grant College Program Director Jonathan Pennock. "These initial efforts will identify the key challenges and inform strategies to be implemented by the Sea Grant network related to contaminants of emerging concern, runoff pollution and flood resilience."
Illinois-Indiana, Minnesota and Pennsylvania Sea Grant programs will lead a collaborative effort to implement multi-benefit green infrastructure in marginalized neighborhoods across the Great Lakes. This initiative, which is supported in partnership with the NOAA Climate Program Office, is aimed at improving the resilience of vulnerable Great Lakes communities to the impacts of flooding through equitable and inclusive stormwater and floodplain management.
The project will identify vulnerable communities and their associated climate challenges in Michigan City and Hammond, Ind.; Duluth, Minn.; and Erie, Pa. Visioning exercises for implementing green infrastructure will be informed by this assessment along with listening sessions and focus groups with municipal and community leaders.
A competitive research program administered by Connecticut Sea Grant will examine methods for addressing the presence and effects of contaminants of emerging concern (CECs) in aquatic environments and affiliated coastal environments. CECs, such as pharmaceuticals, personal care or household cleaning products, industrial chemicals and microfibers, are increasingly detected in surface water and groundwater, posing risks to the nation's drinking waters and aquatic life. The consequences of these contaminants are projected to increase in the future without better understanding and mitigation.
The Atlantic coast regional research initiative will welcome a combination of natural and social science approaches to address CECs. This work will also incorporate environmental justice considerations and public education. Finally, the project team will define a strategic national role for Sea Grant on the topic of CECs through literature review, comprehensive surveys and regional workshops.
New Jersey Sea Grant Consortium will administer a competitive research program to examine innovative techniques and the use of low-impact development and green infrastructure practices for mitigating runoff and pollution impacts on freshwater systems and their downstream environments. The mid-Atlantic regional research initiative will integrate existing knowledge, expert opinions, and stakeholders' comments to reduce runoff and abate runoff pollution-related environmental, economic and social issues. In addition to improving water management and creating new economic opportunities, this work will ensure equitable access to freshwater for urban community residents, particularly from underrepresented and economically disadvantaged groups. This project will also develop a living strategic document that discerns the roles of the Sea Grant Network and various government agencies in this arena.
These two competitive research programs with Connecticut Sea Grant and New Jersey Sea Grant Consortium are the result of congressional direction to support research initiatives related to both CECs and runoff pollution. Furthermore, they address priorities for Sea Grant from the 10-Year NOAA Sea Grant Water Resources Vision. Each effort was awarded $850,000 in federal funds and both grant recipients must match 50 percent of their funding with non-federal funds.
Learn more about Sea Grant's work in Healthy Coastal Ecosystems and Resilient Communities and Economies.
---
Illinois-Indiana Sea Grant is a part of University of Illinois Extension and Purdue Extension.
Writer: Hallee Meltzer, National Sea Grant College Program