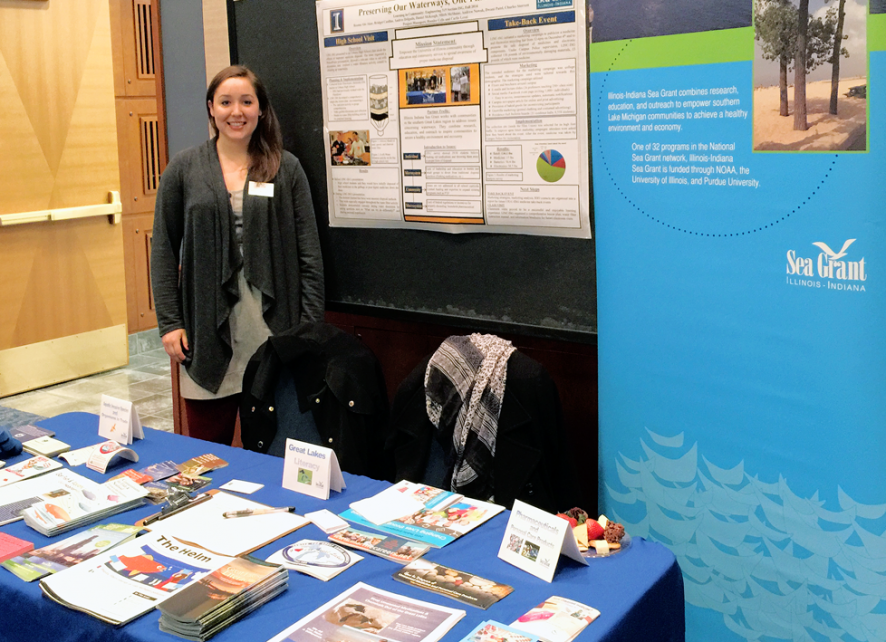 Allison Neubauer and Kirsten Walker were at the University of Illinois Public Engagement Symposium last week to raise awareness of IISG outreach in Champaign-Urbana. Allison had this to say about the event.
The public engagement symposium was a great opportunity to find out what other local organizations and academic programs are working on. The crowds of people—both those staffing booths and walking through and exploring—were a true testament to Champaign-Urbana's widespread effort to get involved and take collective action on local initiatives.
Our IISG table generated a lot of traffic. With spring on the horizon, many visitors were excited to learn about our mobile walking tour of downtown Chicago. Others stopped to discuss invasive species and ways they can help halt their spread.
But the biggest draw was our university Learning in Community (LINC) course poster, created by undergraduate students enrolled in our section last fall. These students focused on increasing awareness on campus about how pharmaceuticals contaminate our waterways. They also coordinated a take-back event for students and community members to properly dispose of their unwanted medication. The event was a big success, collecting 15 pounds of unused medicine for incineration in just six hours.
For Kirsten and I, what was particularly exciting and unique about this symposium was our ability to connect with others working locally on related problems. For example, a Champaign community health center invited us to discuss pharmaceutical disposal with their patients. There was also a UIUC engineering student interested in the homemade filtration system our LINC students created with local high schoolers to show how some contaminants can slip through wastewater treatment processes. She is currently working to design and implement a water system and health program in a rural Honduran community and was looking for ways to engage with local residents.