The National Oceanic and Atmospheric Administration (NOAA), National Sea Grant Office, and Illinois-Indiana Sea Grant are pleased to announce the fellows for the 2023 class of the John A. Knauss Marine Policy Fellowship program. Since 1979, the National Sea Grant College Program has provided one-year fellowships working in federal government offices in Washington, D.C. to over 1,300 early-career professionals. The 86 finalists, including two sponsored by Illinois-Indiana Sea Grant, in the 2022 class represent 29 of the 34 Sea Grant programs and 62 universities.
"The Knauss Fellowship offers graduate students the invaluable opportunity to put their academic knowledge to practice in tackling marine, coastal, and Great Lakes management and policy challenges at the federal level," said Jonathan Pennock, Ph.D., National Sea Grant College Program director. "We look forward to welcoming the 2023 class of Knauss fellows and seeing how they will apply their unique insights to developing solutions to some of the most important challenges facing the country."
Illinois-Indiana Sea Grant's sponsored fellows for 2023 are Hannah Lohman, Hannah Staley and Audrey Taylor.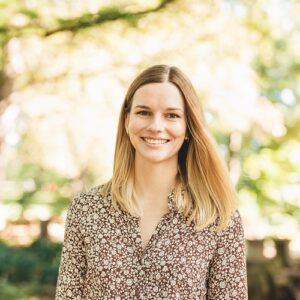 Hannah Lohman received a bachelor's degree in civil engineering and a master's degree in environmental engineering from the University of Illinois Urbana-Champaign (UIUC). She is now working toward a doctorate in environmental engineering with a focus on energy, water, environment and sustainability at UIUC and has completed a Certificate of Excellence in Sustainable Management and Technology from the UIUC Gies College of Business. Currently, she works as a research assistant in the Department of Civil and Environmental Engineering and has served numerous leadership roles in the Graduate Society of Women Engineers (SWE). Earlier this year, she was awarded the Outstanding Collegiate Member Award for her dedication and commitment to SWE.
Lohman studies the sustainability decision-making for engineered water and wastewater projects in resource-limited and low-income communities. Her research interests include quantifying decision-making metrics including economics and environmental/health impacts, evaluating stakeholder and community needs, meeting global sustainability goals with circular economics and innovative solutions, and collaborating across disciplines. She has a strong passion for working in marginalized communities and has worked on projects internationally in Honduras, Rwanda, Uganda and India. As a Knauss fellow, Hannah will be working in the NOAA OAR Climate Program Office with the Climate Adaptation Partnerships team. She looks forward to being a key part of the program's efforts to expand society's regional capacity to adapt to climate impacts in the U.S., and to learn more about climate adaptation decision-making in marginalized communities.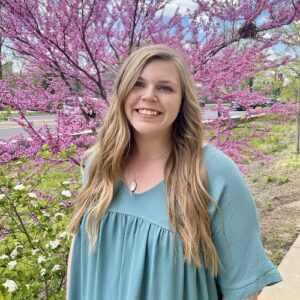 Hannah Staley received a bachelor's degree in marine science with minors in environmental science and political science from Coastal Carolina University. She is currently a third-year master's candidate enhancing her public policy skills and broadening her scientific understanding of the environment by pursuing a dual master's degree in Environmental Science and Public Affairs at the Indiana University (IU) O'Neill School of Public and Environmental Affairs. With a concentration in Environmental Policy and Natural Resource Management, Hannah has shaped her curriculum to focus on climate change mitigation, environmental policy and environmental justice. Outside of the classroom, she worked for the City of Huntington, Ind., where she successfully wrote a grant to fund an arboretum and initiate their climate action plan by conducting local government and community-wide greenhouse gas inventories. She then continued to lead climate initiatives in Indiana as the Project and Outreach Coordinator for the McKinney Climate Fellows Program at IU's Environmental Resilience Institute.
Hannah is excited to take this next step in her career after she graduates in December. A career goal of hers has always been to work on marine and environmental issues, as well as climate change at the federal level. She is thrilled to be able to achieve this goal by working in NOAA's Office of Marine and Aviation Operations as a Knauss Marine Policy Fellow this next year. This position will provide Hannah with the opportunity to utilize her scientific and policy skills by working in the intersection between the executive and legislative branch, while also learning about NOAA's ships and planes.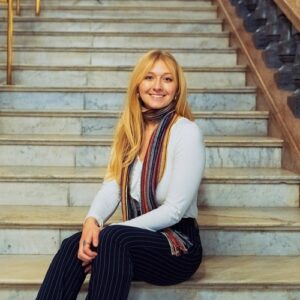 Audrey Taylor recently finished her Ph.D. in Earth Sciences at the University of Notre Dame's Department of Civil and Environmental Engineering and Earth Sciences. Her doctoral research and her undergraduate degree at University of North Carolina Wilmington focused on understanding climates and environments through both space and time. Audrey's work ranged from reconstructing changes in rainfall and temperature in southeastern Africa millions of years ago, to documenting the aquatic communities in a Greek lagoon during the early 20th century. Moving forward, she hopes to use the Knauss fellowship as an opportunity to communicate climate change science and advocate for sustainable policies that benefit the climate, environment and people alike.
As the International Relations and Policy Fellow with the Bureau of Ocean Energy Management (BOEM), Audrey will be learning and engaging in domestic and foreign policy discussions. Her work in the office will likely focus on climate, carbon sequestration and offshore wind energy. Audrey says this portfolio presents a great opportunity to apply her climate expertise and diversify her knowledge.
Curious about the Knauss fellowship? The Knauss blog features stories from former Knauss cohorts, sharing insights on fellowship experiences and their journeys to D.C. Students enrolled in education institutions in Illinois and Indiana should apply for the fellowship through Illinois-Indiana Sea Grant (IISG). Information about the Knauss fellowship and other graduate student opportunities can be found on IISG's fellowships page and also by contacting Angela Archer, campus engagement coordinator, at amcbride@purdue.edu or 765-496-3722.
---
Illinois-Indiana Sea Grant is a partnership between NOAA, University of Illinois Extension, and Purdue University Forestry and Natural Resources, bringing science together with communities for solutions that work. Sea Grant is a network of 34 science, education and outreach programs located in every coastal and Great Lakes state, Lake Champlain, Puerto Rico and Guam.
Contact: Angela Archer