Skip to content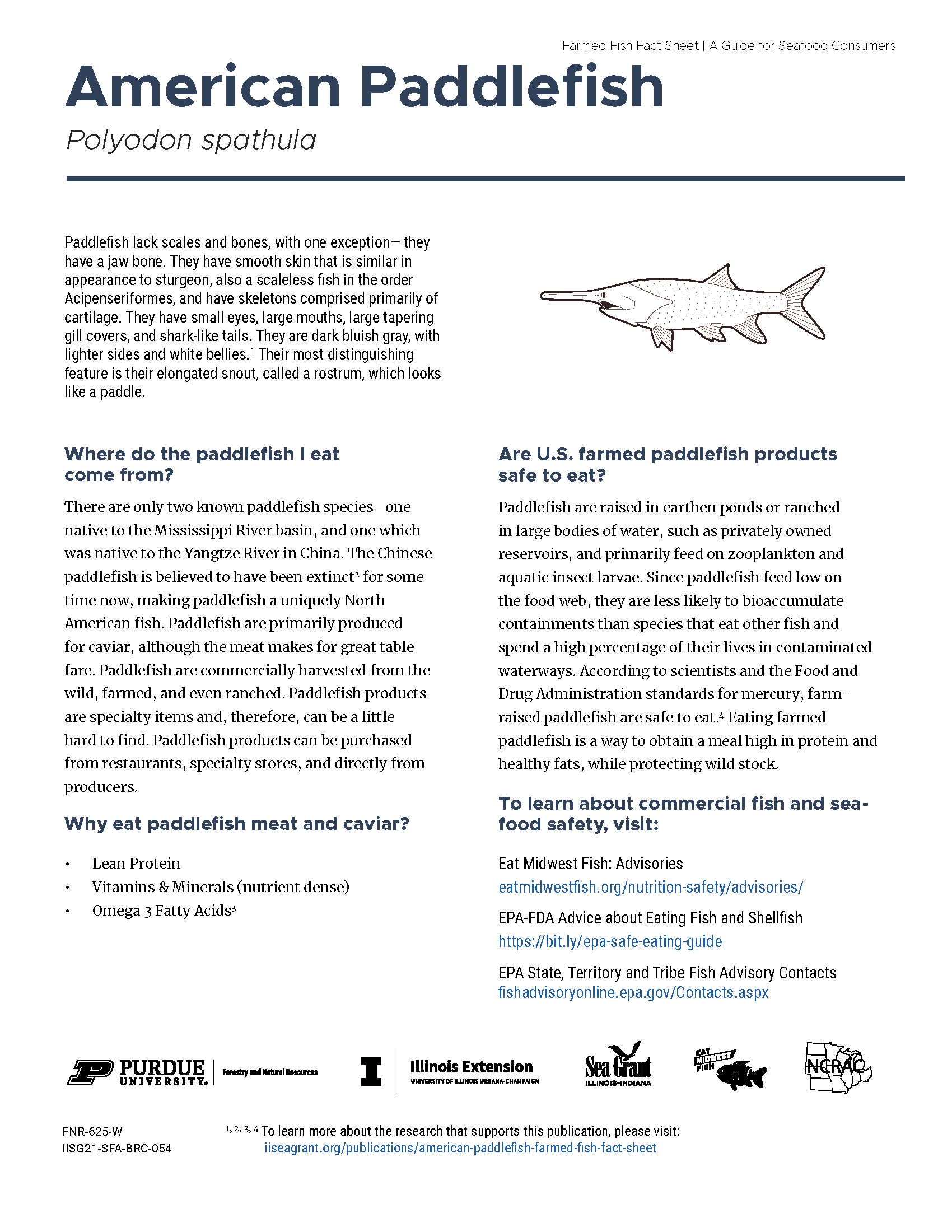 File Type:
pdf
File Size: 4.07 MB
Media Type:
Fact Sheet | Brochure | Poster | Extension Report | Research Summary
Publication Number:
IISG21-SFA-BRC-054
Pages:
2
Description:
This is the sixth in a series of consumer guides that describe fish and shellfish farmed in the Midwest region of the United States. (See Walleye Farmed Fish Fact Sheet, Yellow Perch Farmed Fish Fact Sheet, Tilapia Farmed Fish Fact Sheet, Rainbow Trout Farmed Fish Fact Sheet, and Pacific White Shrimp Farmed Fish Fact Sheet). The fact sheet also includes culinary characteristics, cooking tips and a recipe for Zesty Grilled Paddlefish.
References:
National Audubon Society. 2002. National Audubon Society Field Guide to Fishes. Chanticleer Press, Inc.
Stickney, R.R. 1996. Aquaculture in the United States, A Historical Survey. John Wiley & Sons, New York, 372.
Zhang, H., Jarić, I., Roberts, D.L., He, Y., Du, H., Wu, J., Wang, C., and Wei, Q. 2020. Extinction of one of the world's largest freshwater fishes: Lessons for conserving the endangered Yangtze fauna. Science of The Total Environment, 710, 136242. Available online: https://doi.org/10.1016/j.scitotenv.2019.136242.
Herring, J. L., & Mims, S. D. (2015). Paddlefish Food Products. In Paddlefish Aquaculture (pp. 179-208). Hoboken, NJ, USA: John Wiley & Sons, Inc.
Dasgupta, S., Onders, R.J., Gunderson, D.T. and Mims, S.D. (2004), Methylmercury Concentrations Found in Wild and Farm-raised Paddlefish. Journal of Food Science, 69: fct122-fct125.
Download File
Creators
Amy Shambach
Year
2021
Focus Areas
Sustainable Fisheries and Aquaculture
Topics
Aquaculture