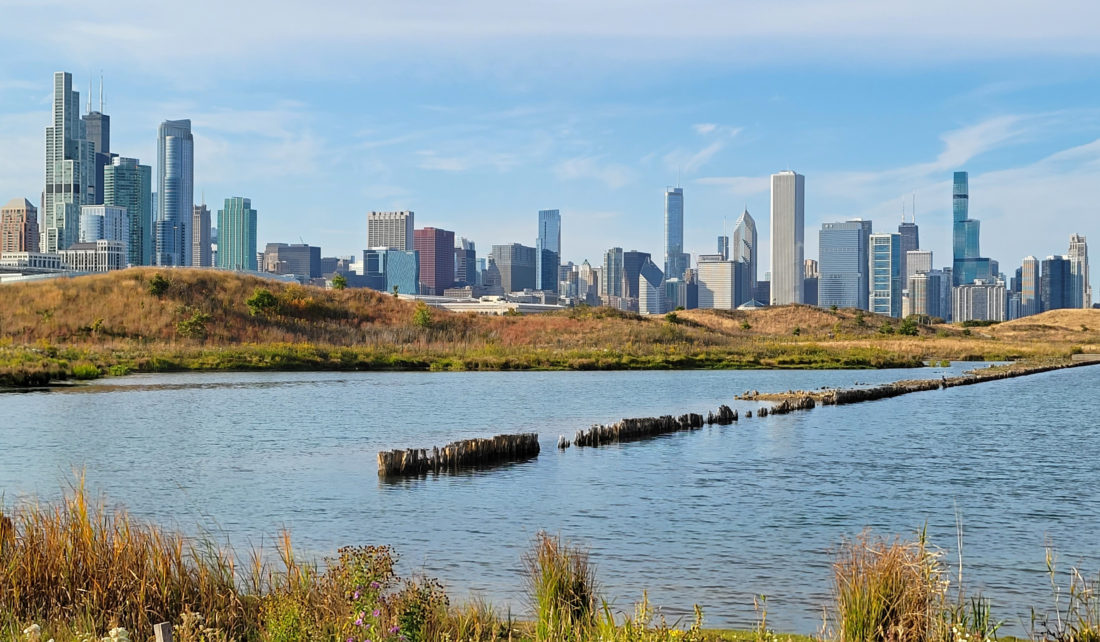 In the wake of the devastating tornados that ripped through at least six states last weekend, bouncing back for these communities will likely be a formidable undertaking. Community resilience is often considered in reference to coping with and recovering from major disasters, but it is also relevant in the face of ongoing challenges that communities frequently contend with, for example, pollution and urban flooding.
While many programs and agencies are focused on providing necessary help to desperate communities in dire need, Illinois-Indiana Sea Grant funds research and engages communities in the Great Lakes region over the long haul to help them protect and restore their natural resources. Here are a few examples.
Through the work of Veronica Fall, Kara Salazar, and Margaret Schneemann—specialists dedicated to climate readiness, sustainable land use, and water supply planning, respectively, community outreach includes providing needed data for local officials and managers to make informed choices for future resilience. For example, through Tipping Point Planner, a land use decision support tool, communities can learn how best to steer clear of irreversible shifts in ecosystem functions.
To help communities make small changes that can help in managing stormwater, in 2021, Kara brought the Purdue Extension Rainscaping Education program over the border and it is now a University of Illinois Extension program, overseen by Eliana Brown. The Rainscaping program provides training and resources for installing rain gardens and other green infrastructure practices in residential settings or small-scale public spaces. The 10 demonstration rain gardens planted at Indiana workshops thus far have reduced stormwater runoff by nearly 410,000 gallons each year.
We are also leading the process to bring Leslie Dorworth's Indiana Master Watershed Steward Program to Illinois. Master watershed stewards are trained volunteers who understand how watersheds work and are willing to help with watershed improvement efforts in their communities.
Through federal and local funding, Great Lakes Areas of Concern (AOC), waterways that bear the burden of legacy pollution, are being cleaned up and restored. In the St. Louis River AOC, Ashley Belle is organizing and facilitating outreach teams to inform residents and stakeholders about contaminated sediment cleanup projects. With onsite posters and online photo galleries, residents can learn about the project benefits and see how the work is going.
We also fund research that complements our coastal resilience outreach efforts, including two Illinois State University scientists, both taking part in our Faculty Scholars Program. Pranshoo Solanki is experimenting with using dredged material (like from AOC cleanups) as a concrete ingredient, potentially providing a useful fate for material that is difficult to manage. And, Sundeep Inti is working to making permeable concrete in parking lots more sustainable with the aim of ultimately reducing runoff and flooding. Another faculty scholar, Sophie Taddeo from the Chicago Botanic Garden is using remote sensing images to improve monitoring of restored wetlands, which can absorb and filter polluted rainwater.
At a whole lake scale, Cary Troy and Aaron Thompson at Purdue University are working with scientists around Lake Michigan to assess coastal erosion levels, causes, and management options from physical, social and community perspectives. In addition, a recently published, interdisciplinary University of Illinois study led by Mary Pat McGuire incorporated soils data into green infrastructure planning and design for two communities in the Calumet region.
These are a handful of examples of our projects that foster community resilience in Illinois, Indiana and Great Lakes wide. In the new year, we look forward to continuing these efforts and the rest of our work, as well.
Happy holidays to all!
Tomas Höök
Director, Illinois-Indiana Sea Grant
---
Illinois-Indiana Sea Grant is a part of University of Illinois Extension and Purdue Extension.